Last Updated On August 19, 2019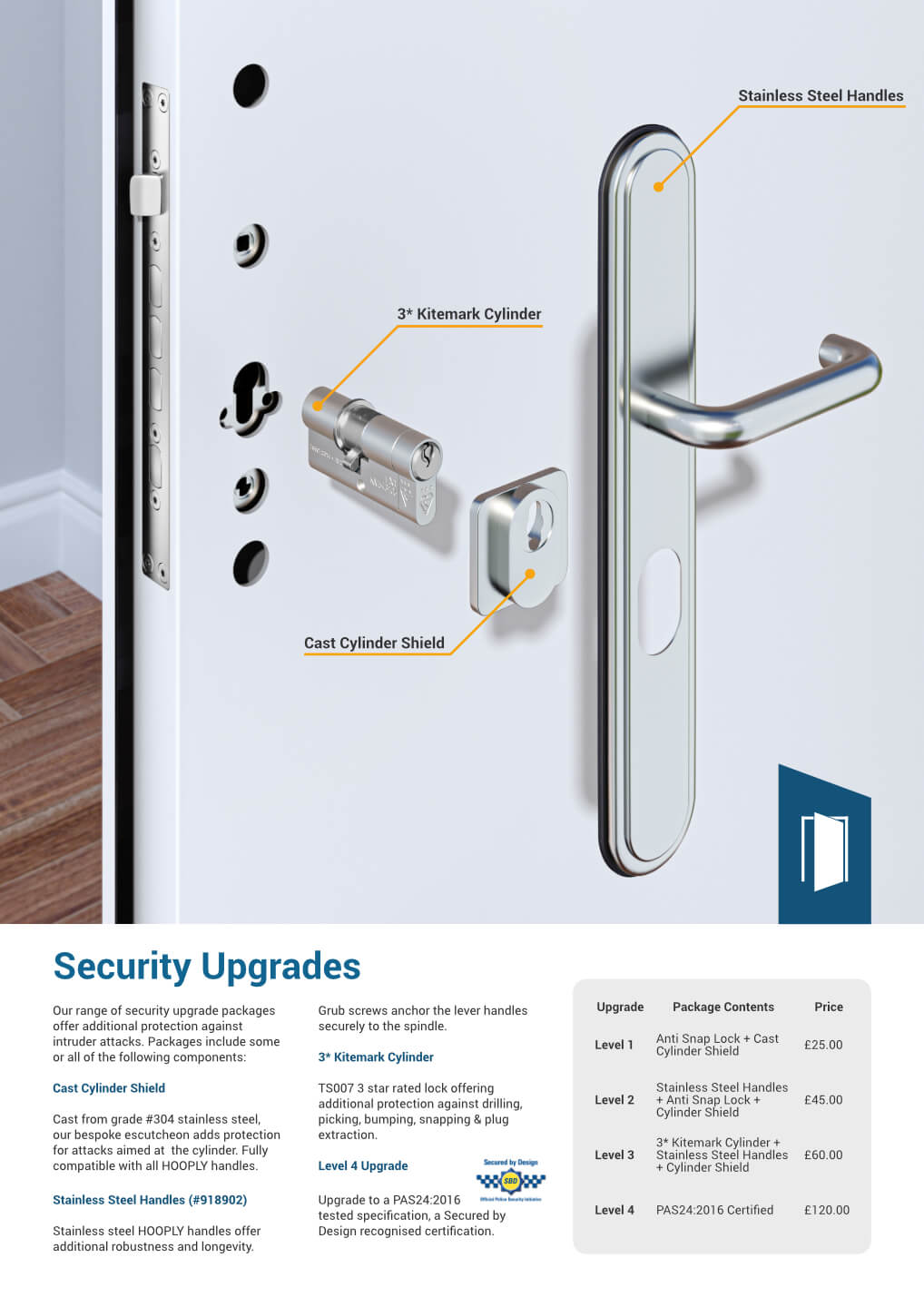 We offer security upgrades with our doors to allow you to further increase security, with budget in mind.
Our security upgrade options include different components at the main lock and handle area of the door (where most burglars will attempt to gain entry).
Level 1: Euro Cylinder
Even on the most secure door, the euro cylinder is still most vulnerable component. We recommend that you should at least invest in a kite marked euro cylinder. One of oldest and still most common methods of entry for burglars in something known as 'lock snapping'. We have an article here where you can find more information. We recommend to all of our customers to invest in a level 1 security upgrade, giving you extra security and peace of mind. These cylinders have anti-pick, anti-snap, anti-drill, anti-pull and anti-bump features.
Level 2: Lever Handles (+ Level 1)
Our standard issue lever handles include euro cylinder protection by default, with oval cylinder covers which are installed before fixing the handles together. Our level 2 handle upgrades include heavier duty cylinder protection, thicker grade materials to the handle and a function to enable you to fix the levers to the spindle using integral grub screws. Our in-house testing resulted in many attempts to get through leaving the cylinder protection in tact and the levers still attached to the spindle.
Level 3: Sash Lock (+ Level 2)
For the most security conscious, a further level of upgrade has been added to replace the main sash lock unit with an improved, even stronger lock.
Level 4: 3* Kite mark Euro Cylinder (+ Level 3)
Level 4 switches out the 1* kitemark cylinder included with level 1, for a 3* kitemark cylinder for ultimate anti-pick, anti-snap, anti-drill, anti-pull and anti-bump protection. This may be a requirement by your insurance, since this cylinder is insurance approved and Secured by Design approved too.
Other Security Upgrades to Consider
Security trim and drop bar kits are extremely underrated, but shouldn't be looked over. See the relevant articles here for further advice on these additional security measures that you should consider:
Final Advice
We strongly recommend that you do not choose a budget steel door and spend additional money within your budget increasing the security with upgrades. You are far better investing that money in a heavier duty door with a minimum level 1 upgrade to ensure your euro cylinder is not the weakest point, but having peace of mind that the construction of the door is superior. By upgrading to our ultra door, you get a 1* kitemark cylinder by default, so it's always worth stretching to an ultra door when your budget allows.