The importance of Fire Door Safety cannot be underestimated. A Fire Door ensures that should the worst happen and a fire breaks out, it can be contained in a 'compartment' keeping the fire and smoke trapped. This is vital for allowing time to escape the fire and allowing emergency services a safer route to tackling the fire.
Impact of poorly managed and maintained fire doors
Residential Use
A Fire Door helps to protect your home and your family should the worst happen, giving everyone an opportunity to escape the fire through a safe route. Never prop a fire door open and always keep them closed, particularly at night or when you aren't in the building.
Commercial / Industrial Use
In the case of fire doors used for commercial and/or industrial use, the consequences of a poorly maintained or misused fire door can be irreversible. Loss of reputation to your business, rejected insurance claims and not to mention the potential risk to employees. Building owners, employers and operators have a responsibility under Regulatory Reform (Fire Safety) Order 2005 to ensure employers and users of their properties are safe and Fire Doors come under this responsibility.
Fire Door Safety Week 2018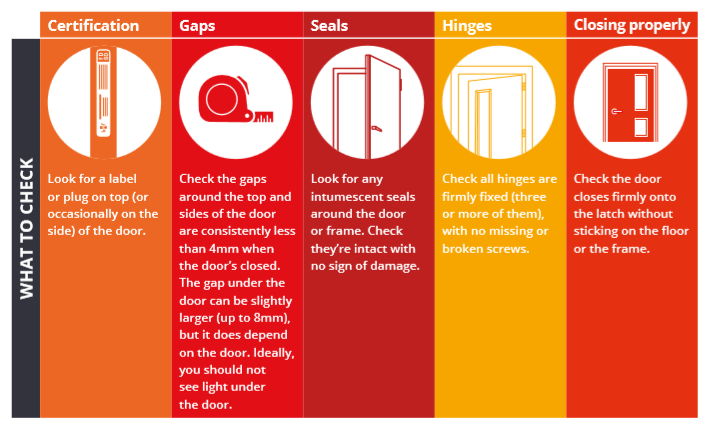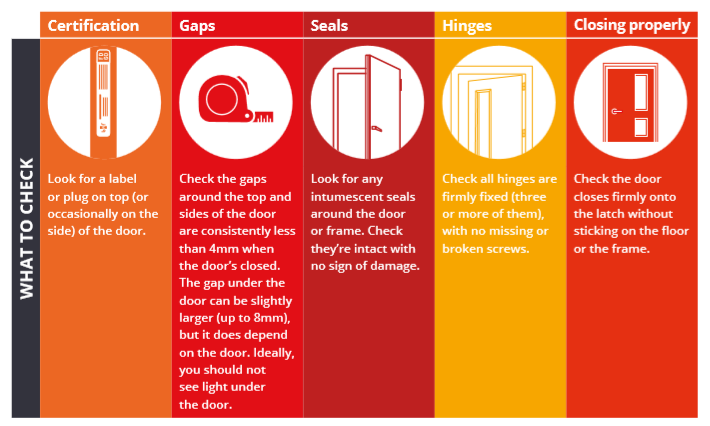 From 24th to 30th September 2018, it's Fire Door Safety Week, an initiative which raises awareness of the critical role of fire doors, encouraging building owners and users to check the maintenance and operation of their fire doors.  Here at Latham's we're proud to have pledged our support to the event and as part of Fire Door Safety Week, a simple 5-point checklist has been released to help you ensure your fire door is maintained and to help highlight any possible issues:
1. Does the door have the correct Certification?
Look for a label or plug on top (or occasionally on the side) of the door. This certification mark shows that it is a fire door so it's important to ensure this is visible.
2. Check for Gaps
Check the gaps around the top and sides of the door. They should always be less than 4mm when the door is closed. The gap at the bottom can be up to 8mm but it will depend on the door, as a guide you ideally shouldn't be able to see any light underneath.
3. Are the Seals intact?
In the event of a fire, intumescent fire seals will expand and seal the gap between the door and the frame. This will stop the fire, and in some cases the smoke, from penetrating the cracks in the door. You should always look for any signs of damage to the seals, and if found, report it immediately.
4. Are the Hinges intact?
On a fire door, there should be three or more hinges firmly fixed with no missing or broken screws. It's important that you report any defects or missing screws to the relevant person, HR, your company Fire Safety Officer or your Landlord for example. Missing or broken hinges shows the door hasn't been fully maintained and may affect the integrity if put up against a fire.
5. Check the door closes smoothly and firmly
The door should smoothly and firmly close onto it's latch without sticking to the floor or the frame. A fire door will only serve its purpose when fully closed. Propping it open to catch a breeze through the office may feel like a relief in the summer months, but in the case of an emergency it will render the door useless and may void any insurance claims!
For more information about Fire Door Safety Week visit www.firedoorsafetyweek.co.uk
Latham's Steel Doors range of FD30 Fire Rated Doors have been fire tested to comply with fire regulation legislation. They offer up to 30 minutes of protection from fire along with our 19-point locking system for added security. We also offer a range of Fire Exit Doors available as single and double panic escape doors to suit openings from 695mm to 1995mm wide.