---
The first time fire safety regulations are mentioned in the UK dates back to 1883 following the events of the Victoria Hall Disaster in Sunderland. In this incident more than 180 children died because a door had been locked at the bottom of a stairwell. Shortly after, the British government began legal moves to enforce minimum standards for safety related to buildings. This slowly led to the legal requirements that buildings must have a minimum number of outward opening escape exits with locks which can be opened from the inside.
Fire exit doors (also referred to as fire escape doors or emergency doors) play a crucial role in reducing the number of fatalities and casualties caused by fire related incidents. This makes it crucial that all doors on escape routes leading towards the final exit must be quick and easy to open, without the need for a key. However, the final exit door of a building often presents problems because this type of door requires a higher level of security, whilst still having to be opened easily from the inside.
In England alone in 2018 there were 177,844 fires registered as stated in the government's fire and rescue incident reports. This equals a 5% increase in comparison to the previous year. These numbers dictate the importance of having fire exit doors installed, regularly maintained and compliant with UK regulations.
What Is a Fire Exit
A fire exit is usually defined as a means of exiting a building in the event of a fire or a door that is used to let people out of a building when there is a fire. It is important to clarify that emergency exits can be the combined use of a regular exit and a special exit which allow for a faster evacuation, whilst also providing an alternative route in case the regular exit is blocked.
A fire exit must comply with the following qualifications:
It must be in a location that is easily accessible;
The exit must have an area or location that it can bring people in the event of any emergency situation, for example a fire;
It must be controlled by the inside of the building;
It must be well managed and regularly maintained;
It must be in a permanent location.
It is also important to know that there is a significant difference between a fire door and a fire exit door. You can read more about the differences here.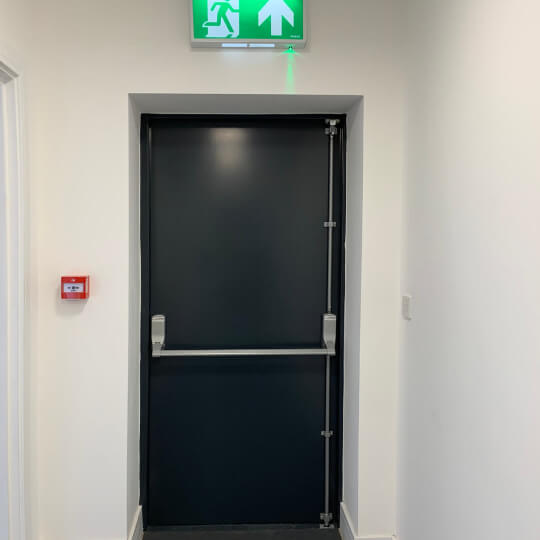 Fire Exit Door Specifications
Fire exit doors do not have to be manufactured to withstand and stop the spread of fire. Their main purpose is to be able to open quickly and easily so that people can escape the building in the shortest time possible in the event of an emergency. The Regulatory Reform (Fire Safety) Order (RRFSO) 2005, commonly known as the Fire Safety Order, states that the following requirements must be adhered to:
Fire exit doors must open in the direction of escape and sliding or revolving doors must not be used for exits specifically intended as emergency exits.
Fire exit doors must not be locked or fastened in a way that they cannot be easily and immediately opened by any person in an emergency situation.
If the door is also to provide security, a fire exit door can be locked from the outside, but must be fitted with an emergency push bar (or other emergency access device) to allow a quick escape.
Fire exits must be clearly marked and identifiable using adequate lighting and/or signage.
Panic Hardware
Panic hardware, also referred to as push bars, panic bars, touch bars or crash bars, are designed to provide the general public occupying a building fast and easy egress in an emergency.
Panic hardware can come in several different styles but they all need to achieve the following; when a person pushes on the panic bar (or pad), the latch mechanism should immediately retract and allow the person to easily push the door open.
Panic hardware should conform to BS EN 1125:1997 which is the British Standard relating to building hardware, specifically Panic Exit devices which are operated by a horizontal bar or push pad. Achieving a BS rating demonstrates that this item of hardware has undertaken rigorous testing to ensure the quality and integrity of the product.
For added security, you may wish to consider equipping the door with an alarm to prevent people exiting commercial buildings for purposes other than an emergency.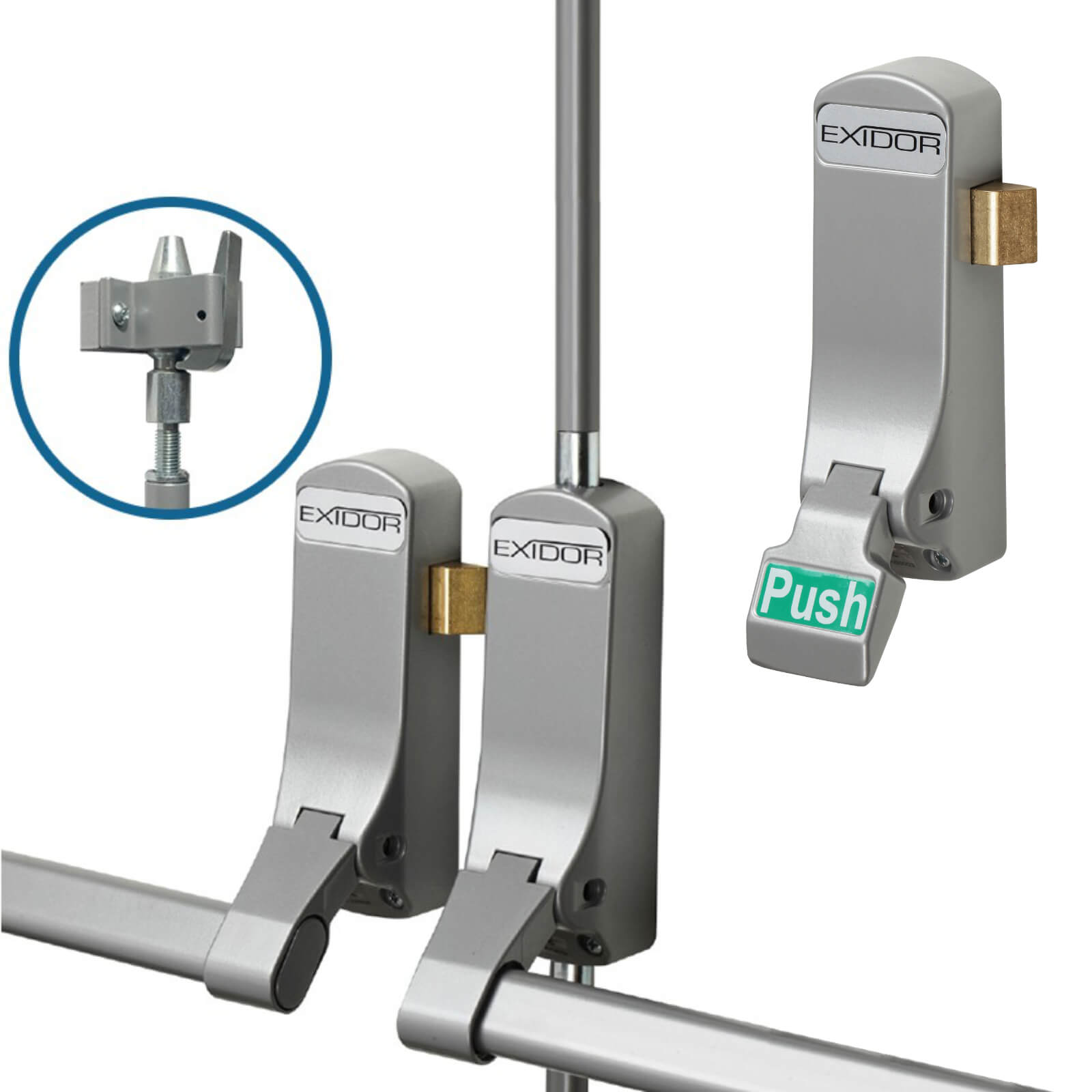 Fire Exit Signage
Legislation states that a fire exit must be clearly marked and kept free of obstructions. This may take the form of an illuminated sign and or stickers.
What is the required width of a fire exit?
There are two main sources when considering the width of fire doors installed in a building as stated on the British fire safety advice centre website:
Building Regulations – consider the maximum number of persons approach. Building regulations contain guidance on the width of escape routes and exits for new-build, non-domestic properties and the communal areas in purpose built blocks of flats in "The Building Regulations 2010, Fire Safety, Approved Document B, Volume 2 – Buildings Other Than Dwellinghouses, 2006 edition, incorporating amendments up to April 2019". These regulations specify that the width of escape routes and exits depending on the number of persons needing to use them must be regulated accordingly; i.e. for a maximum of 60 persons the width must be no less than 750 mm, for 110 people no less than 850 mm, for 220 people no less than 1050 mm and for more than 220 people it is calculated as a minimum of 5 mm per person.
British Standards – consider the risk profile approach. The British Standards are regulated by the British Standards Institution which is recognized as the UK's National standards body. They take a complimentary approach to calculating the width of fire exit doors in regards to the number of persons using them based on two factors; occupancy characteristics and fire growth rate. By combining these two factors the risk profile of a specific building is created and there is a scope for a much more interpretive approach on a case by case basis.
The minimum width for an emergency escape exit should ideally be 1050 mm but not less than 750 mm in any case and where wheelchair users are likely to use it not less than 900 mm. The premises fire risk level will be obtained from your fire risk assessment as shown in the table below:
Minimum width on escape route or exit
Building fire risk and persons
750mm – 1050mm
Low risk = 120 persons
Medium risk = 100 persons
High risk = 80 persons
1050mm
Low risk = 240 persons
Medium risk = 200 persons
High risk = 160 persons
75mm extra over 1050mm
Every 15 persons regardless of risk level
When calculating the exit capacity you must remember to discount the largest exit or exits if they are close together (see example below), as they may be unavailable due to the fire. Then add together the number of persons who can safely use the remaining available exits. E.g. Exit A (1200mm wide) = 200 + 30 (150mm over 1050mm) = 230 persons, Exit B (900mm wide) = 100 persons and Exit C (850mm wide) = 100 persons. Discount the largest Exit (A) then total exit capacity is Exit B + Exit C = 200 persons.
How Many Fire Exits Do I Need?
There is no specific regulation defined by the government on how many fire exits you must have in your premises, however there are guidelines in the Building Regulations document to follow to comply with fire safety regulations.
The government recommends that more than one fire exit is provided from your premises whenever it is possible. These exits should be completely independent from each other and have separate escape routes if possible.
Three factors influence the number of fire exit doors needed in a premises:
The number of occupants in the room
The number of tiers or storeys in a building
The limits on travel distance to the nearest exit
The government guideline states that for up to 60 persons 1 fire exit is needed, for up to 600 persons 2 fire exits are needed and in cases of more than 600 people there must be at least 3 fire exits. It's not always possible to know the number of people in the room, so in this instance the capacity of the room is calculated on the basis of the floor space factor found in Appendix C of British Building Regulations.
Efforts to ensure the distance people need to travel to evacuate the premises is as short as possible, however if a building has more than one exit, there should be no point that is more than 60 metres away from the nearest escape route.
Who Is Responsible For Fire Safety?
Under the Regulatory Reform (Fire Safety) Order 2005, in any non-domestic premises a 'Responsible Person' must be identified, and it is the duty of this person to ensure that fire safety standards are met. The Responsible Person is usually an employer, landlord, building manager or managing agent, but in a building such as a school, this may be the head teacher or a governor. This means that as well as having a moral obligation to ensure access control systems adhere to the latest regulations, there is also a legal requirement for those in charge.
As the responsible person for implementing these regulations they must make sure that the premises reach the required standards and that the occupants of the building are provided with adequate fire safety guidance.
The Fire Safety Order applies to almost all buildings, places and structures including shared areas in houses in multiple occupation (HMOs), blocks of flats and maisonettes, however individual private homes are not covered in the Order.
Maintenance and Testing of Fire Escape Doors
Maintenance and testing of routes in case of an emergency are not just limited to maintaining fire escape doors but also staircases, corridors, escape routes, fire detection alarm systems, fire-fighting equipment, notices and emergency lighting. Regular checks, periodic servicing and maintenance must be carried out on all fire safety fixtures and fittings.
An employer or nominated employee can be designated to carry out checks and routine maintenance of emergency routes and equipment. However, it is recommended that periodic servicing of fire-fighting equipment and installed systems such as fire alarms and lighting are done by a competent person to ensure the reliability, safe operation and need for any necessary repairs.
Every premises will have its own requirements depending on the size and layout of the building and the number of people inside. However, as a general guide it is helpful to use a Fire Safety Maintenance Checklist to adhere to a required timescale such as below:
Daily – Responsible Persons or wardens should check that all escape routes are kept clear; that fire doors open easily; and that there are no fire hazards such as visibly faulty electrical equipment, or flammable materials left close to a heat source.
Weekly – Test fire alarms to ensure the mechanisms are working correctly
Six monthly – Safety standard BS5839 recommends that fire alarm systems are inspected by a 'competent person' at least every six months, a standard which the UK government follows.
Annually – All fire extinguishers should receive a basic service every 12 months, to pick up on any problems and ultimately to ensure that the extinguisher has a long and reliable life. Fire suppression systems also need regular servicing, timings of which will vary depending on specific products and the environments in which they're stored.
Five yearly – Most fire extinguishers should have an extended service after five years. This will involve completely discharging the extinguisher, checking for internal corrosion, refilling and re-pressurising.
Other Frequently Asked Questions
Can I leave a fire exit door open
If it's a hot day or you need some airflow, it is completely fine to have final fire exit doors standing open on. The only time this shouldn't happen is if the fire exit door is also doubling up as a fire resistant door, doubling up as a means to stop the spread of fire. Fire rated doors should not be left open.
Can I lock a fire exit door?
Internal Fire Exit Doors
There are many instances emergency escapes need the ability to lock. For example, hotel bedroom doors must have the ability to lock for the privacy and security of the guest and are operated externally using a key, but can be readily opened from the inside for easy evacuation in an emergency. Building regulations state 'where a door on an escape route has to be secured against entry when the building or part of the building is occupied, it should be fitted with a lock or fastening which is readily operated, without a key, from the side approached by people making their escape'.
Similarly if the door is operated by a code, card or biometric data for example, it should be possible to override the lock by the side of the door used by those making their escape. This stipulation is further reflected in the RRFSO by stating 'emergency doors must not be locked or fastened that they cannot be easily opened by any person who may require them to use them in an emergency'.
External Fire Exit Doors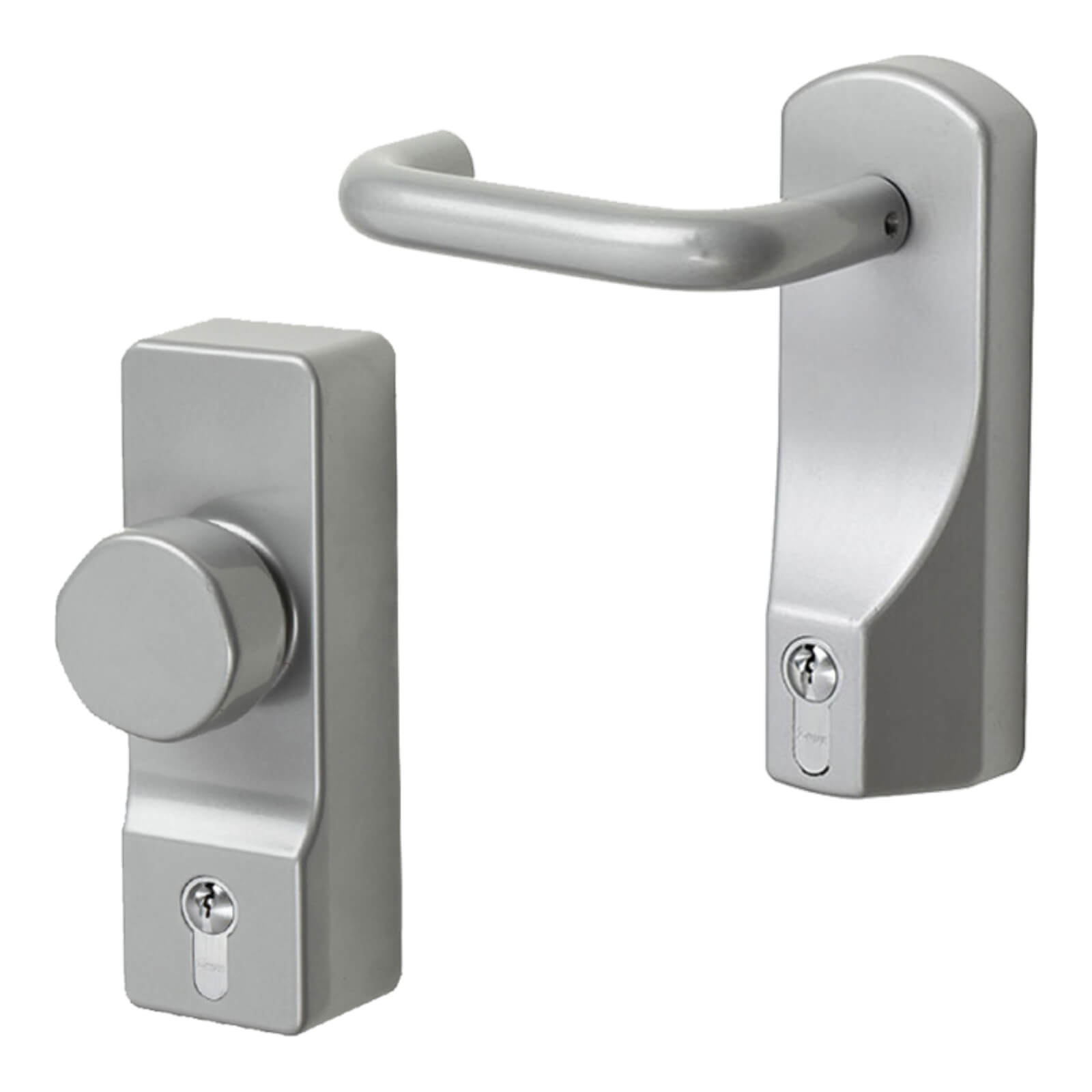 Similarly, it's also possible to fit an Outside Access Device (OAD) to an external fire escape door. Fitting an OAD enables the door to be made accessible externally without fitting a lock internally which would inhibit the use of the door in an emergency situation.
In non-residential buildings some fire exit doors may be fitted with a lock which is only used when the building is empty, however in these cases the onus is placed on the management procedures to ensure the safe use of locks in this situation.
Why do these regulations exist?
Regulations exist to safeguard those who could be impacted by fire, and to ensure they can safely escape from fire in an emergency situation.
Unfortunately, not all organisations comply. In 2009 New Look was fined a record £400,000 after a fire broke out in their Oxford Street store in 2007, and having been seen to be in breach of fire safety law. Thankfully no one was injured however the judge suggested that 'the charges represent "significant failures" which constituted a risk of death and serious injury". Also in 2007, the Co-op Group were fined £210,000 after they were found to be in breach of 6 pieces of fire safety legislation including failure to keep the rear emergency exit doors unlocked and fitting a lock on exit doors that required input of a security code, making it more difficult to open the door in an emergency. Chescombe Limited who own Tantons Hotel in Bideford were fined £40,000 plus £10,000 in costs for breaching fire safety regulations. The responsible person pleaded guilty to a number of offences including failure to ensure escape routes were clear, and failure to ensure all final exit doors were easy to open in an emergency situation.
A breach of fire safety legislation has far reaching implications. In addition to any potential fines, there's also a loss of business confidence and a risk of causing injury or even death through failure to safeguard employees or tenants. In the unfortunate instance that a fire occurs on your premises, you must show that as far as reasonably practicable you put measures in place to negate the impact of such an incident. Ignorance is no defence and no company is exempt from prosecution.
5 Top tips for fire exit regulations in the workplace
With all the above information in mind, see below our 5 top tips for managing fire exit regulations in the workplace:
Carry out a fire risk assessment of the premises and review it regularly
Tell staff or their representatives about the risks you've identified
Put in place, and maintain, appropriate fire safety measures
Plan for an emergency
Provide staff information, fire safety instruction and training