If you need to have fire safety doors installed or replaced on your premises, it's important that the difference between the two is clear. In this article we will clarify the purpose of a fire exit door compared with the purpose of a fire door.
Fire Doors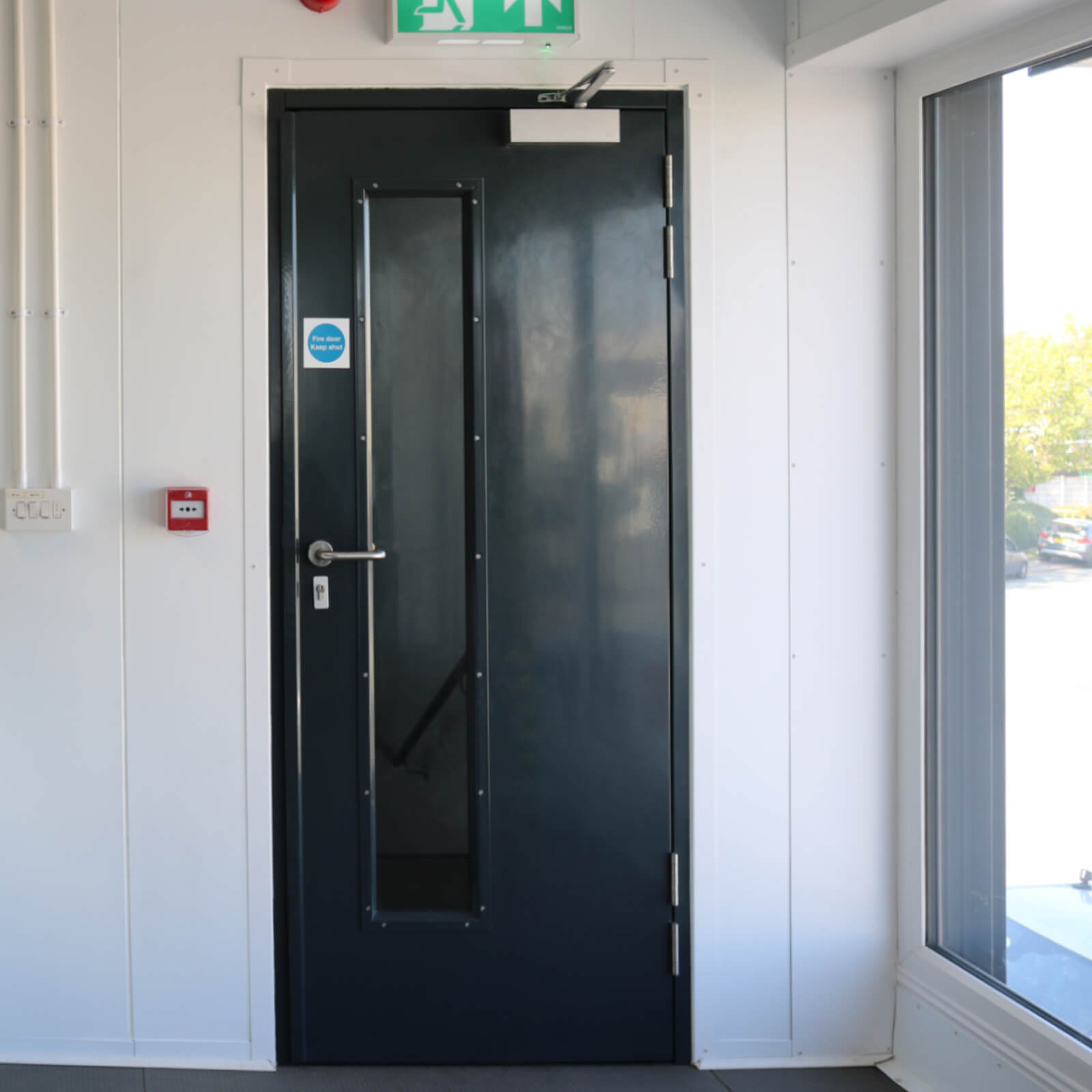 ---
Fire doors are normally internally fitted and are designed to act as a barrier to fire and smoke between separate compartments of a structure to enable a safe escape route for people inside the building.
Certified fire doors will be resistant to fire and smoke when closed, for a minimum specified length of time specified by their FD rating.
Fire Exit Doors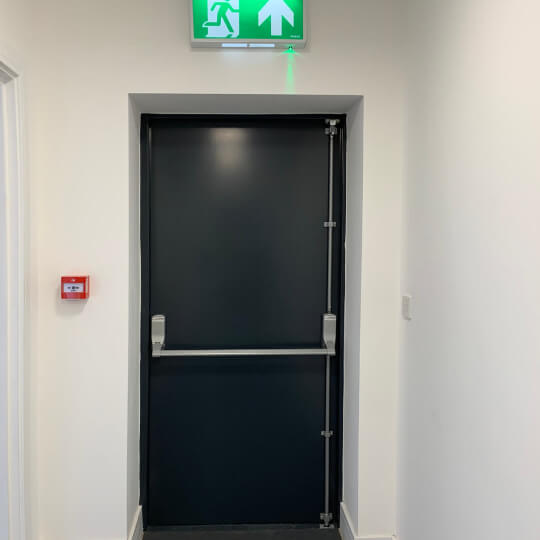 ---
A fire exit door usually serves as the final opening to the outside of the building.
They easily opened via a panic bar or push pad from the inside in the event of an emergency. They can also be opened from the outside required using an external access device.
Differences between fire exits and fire doors
Purpose
A fire exit door's primary purpose is to facilitate a quick and easy escape in the event of a fire or other emergency. It's primary purpose is not to stop the spread of fire (although some fire exit doors are designed to do both). In contrast, a fire door's primary purpose is to prevent or slow down the spread of fire between different rooms.
Location
Due to their differing purposes, fire doors and fire exit doors are usually located in different parts of a building. A fire exit door is typically found on the exterior of a building, acting as the final door of an escape route. In contrast, fire doors are usually located internally, on stairwells, between rooms and on front doors for apartments in a residential block.
Locking
Fire exit doors must never be locked from the inside in a way that would prevent an easy escape without a key. For security reasons, most fire exit doors are lockable from the outside using some form of OAD (Outer Access Device) but the lock is "overridden" and the door opens without a key if the internal panic hardware is pressed. Fire exit doors can be left open if desired, although it generally presents a security risk.
---
On the other hand, fire doors should always be closed and have a self latching feature to ensure this happens. Fire doors rarely need to be locked as they are internally fitted and designed purely to stop the spread of fire. However, in some instances (such as a front door to an apartment) the fire door will also need to allow a quick and easy escape. In these instances a panic bar isn't required, but you'll need to utilise a special type of lock that can be unlocked without a key from the inside, such as a thumbturn euro cylinder.
Both types of fire safety door must not be obstructed at any point.
Regulations
Fire doors and fire exit doors must both adhere to british standards and building regulations. These regulations will apply to the specification, installation and maintenance of fire doors and fire exit doors. Check out our alternative blogs for a more detailed insight into UK fire door regulations and the fire exit door regulations for businesses.
Signage
Fire exit doors should have green signage indicating an exit. Fire exit signs are green because this has become the universal colour for "go". Every fire exit sign should be suitably illuminated via a reliable source of light and if not, should light up.

Fire doors should have blue and white signage placed on both sides of the door. These signs are blue as they indicate a positive instruction, telling people to keep the door closed.

Maintenance
Both fire doors and fire exit doors must be regularly maintained and tested in case of emergency. Key elements of these checks should include checking for obstructions and damage to the doors themselves. Fire escape doors should have a working push bar. Fire doors should have checks on seals, gaps and hinges. Check out our other blogs for more detail on fire door maintenance and fire exit door maintenance.