Last Updated On August 19, 2019
Finish
A previous 'stigma' of steel doors was the connotation of their very industrial nature, which was perceived as unattractive and certainly not fit for use with residential premises.
Things have come a long way of recent. We encourage you to take a look at this image of our residential range in our showroom. Can you that tell they are made from such heavy duty materials?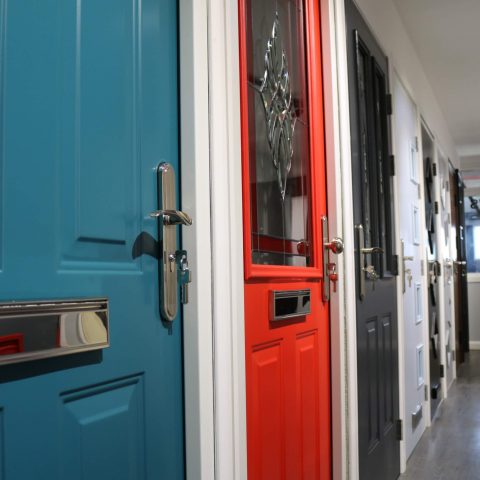 Price
Steel door prices are now more competitive than ever and play a big factor in your buying decision. Until recent, a steel door was manufactured to order and therefore demanding a significant premium over uPVC and composite doors. Steel doors are now priced less than composite and uPVC doors, with our pre-finished steel door range starting from just £139.99+VAT including the steel frame, hardware and weather seals.
Even when you step up to our highest security stock door, the ultra duty door, priced from £309.99+VAT, there is no comparable product in uPVC or manufactured from composite materials that even compare to the sheer strength of this door at this price.
Security
Steel doors are some of the most secure doors on the market, dependent on spec of course. Weighing from 50kg up to 150kg, our doors offer unrivaled levels of security.
Even our budget doors increase the security of your home compared to a comparably priced timber or uPVC door, with heavier duty ranges to choose from. We offers various strengths in our range to fulfill your requirements.
Insulation
A misconception in the market is that steel doors don't insulate well, since they're constructed from metal which conducts temperature.
However true that is (that metal conducts) we compensate for this with a thick insulation of mineral wool to achieve superior thermal u-values and an acoustic value of up to 38db!
Longevity
By far the most attractive proposition of a steel door is it's minimal requirement for maintenance. The hardy polyester powder coat finish will last for years with the chance of rust eliminated by a galvanised coating to all steel raw materials.
Steel doors won't warp or twist over time either, unlike composite and timber doors.
Our steel doors
There are many steel doors to choose from to suit your application. They are the most customisable as you can choose the colour, hardware and glazing options too. The security upgrades are endless, from upgrading your euro cylinder to a 3* kitemark, to a manually operated set of drop bars.
There are many options and our customer advisers would be more than happy to talk you through your requirements. Contact us
At Latham's we also stock certain doors that are purpose-built to withstand elements of harm such as fire, keeping you secure from even the most life threatening events. For more information on these please enquire about our fire rated doors.