Your front door is arguably the most important line of defence for your property. Investing in your front door security will help protect your home, office, or warehouse from break-ins.
Whether you're wanting to secure your home or a commercial property, our comprehensive guide will give you actionable ways to keep the premises safe.
Consideration 1 – Improve Your Door
A well placed kick on a wooden door can cause the lock to fall off or split the door away from the door frame. Similarly, a lot of force applied to the centre of a uPVC door can cause it to collapse inwards or tear the door away from the frame. Brute forcing a weak door is one of the most common ways a property is broken into; investing in expensive locking systems and advanced security is negligible if your door isn't strong enough to withstand external force being applied to it. Below are some steps you can take to improve your door:
Invest In a Steel Security Door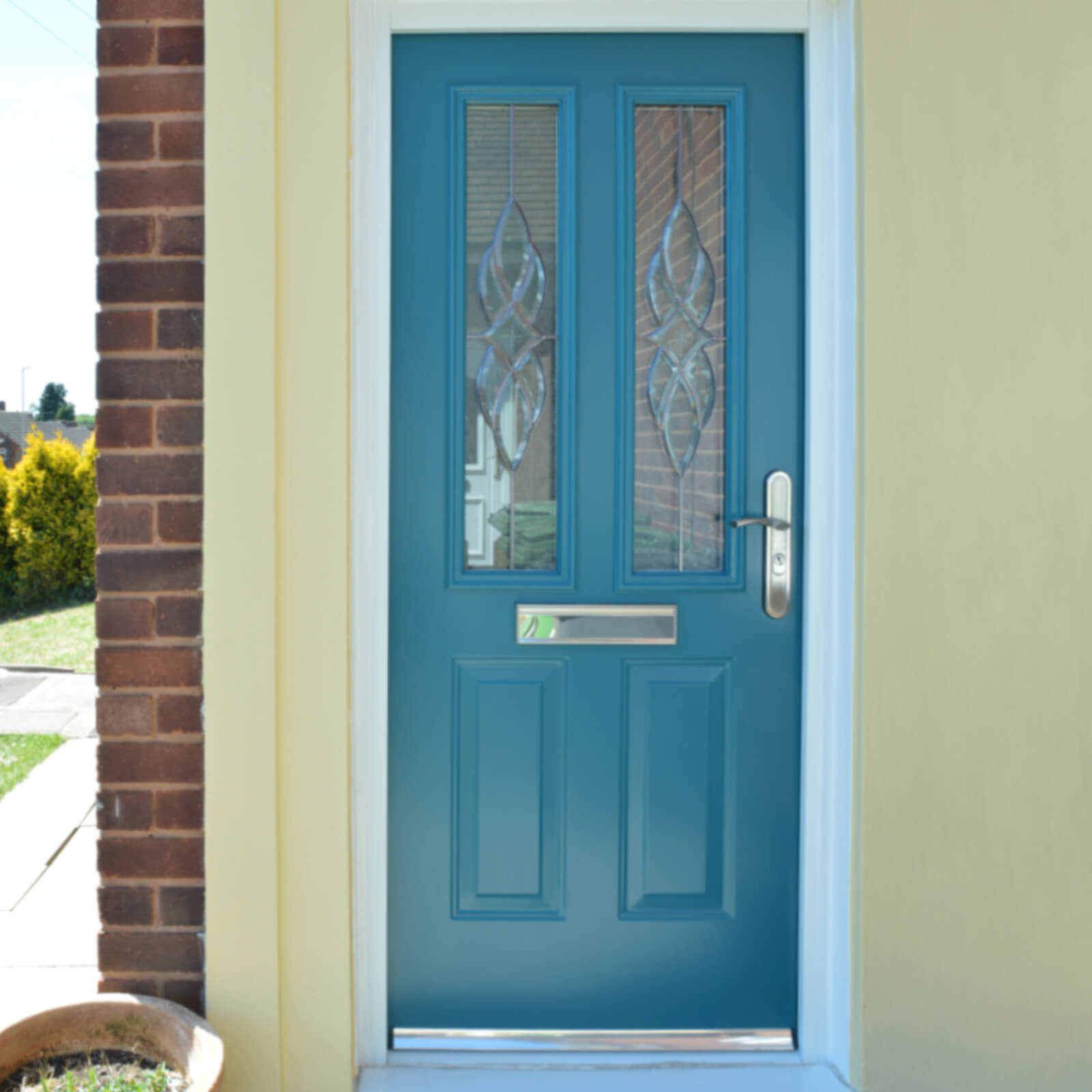 Steel front doors were traditionally only used on commercial or industrial properties. However, rising security concerns and advancements in technology mean you can now purchase domestic steel front doors too that look good and offer much greater security.
Opting for a steel front door, over uPVC, composite or wood, will give you a number of benefits.
Steel doors are strong by design. Steel is much stronger and more rigid than wood or uPVC making it a lot more difficult to brute force open without any specialist equipment.
Steel door hardware and frames are usually stronger. Steel doors are naturally heavier than wood or uPVC and consequently require stronger hinges, locking systems and frames. Again, this makes it more difficult to brute force or snap a steel door from its hinges.
Steel doors do not warp or crack. Wooden and uPVC doors are much more sensitive to weather fluctuations and time decay and will gradually lose their structural integrity as they age. When a uPVC or wooden door starts to lose its shape, it can leave gaps around the door causing it not to close properly and leaving easily accessible leverage points. Alternatively, steel doors and their frames are unaffected by moisture, particularly if treated (galvanised) to avoid corrosion, and can withstand much greater temperatures.
Steel doors are available with strong, secure, multi-point locking systems. A multi-point locking system usually locks the door into the frame at multiple points with a simple turn of the key, giving a higher level of security.
If you are purchasing a steel security door, we'd recommend ensuring the door meets the following basic specification:
The steel door has a solid core made from wood, resin or strengthened cardboard. The core fits between the interior and exterior metal leafs and is bonded to both, making them stronger and harder to kick in. Doors with hollow-core doors are vulnerable to brute-force attacks as the first leaf can be broken or dented, leaving the second leaf vulnerable.
The door is galvanised to better protect it against the elements ensuring a long and interrupted life.
The door includes a multi locking system for greater security.
To make the door even more secure, if space allows, you may consider installing it to open inwards. An outwards-opening door reduces the risk of being kicked or bashed in as you'd also have to force against the door jambs.
Consideration 2 – Improve your door lock
A modern, strong and durable front door lock would be a wise purchase; especially considering the amount of methods available to burglars for breaking into locks.
What Are The Most Secure Front Door Locks?
Depending on your front door, lock choices are diverse and their security varies considerably.
The most secure front door locks have the following properties:
A deadbolt is often considered the most secure type of lock because they cannot be moved easily from the locked to unlock position. Every deadbolt requires rotation (as opposed to spring loaded locks) to disengage the lock.
The lock should have anti-bump, anti-pick and anti-drill qualities.
The locking system should lock the door in more than one point.
The lock should conform and satisfy the requirements of BS3621:2019.
However, different locks are suited differently depending on the type of door they're being installed on. Read on for our recommendations on which locks are best of which doors.
The Best Locks for Steel Front Doors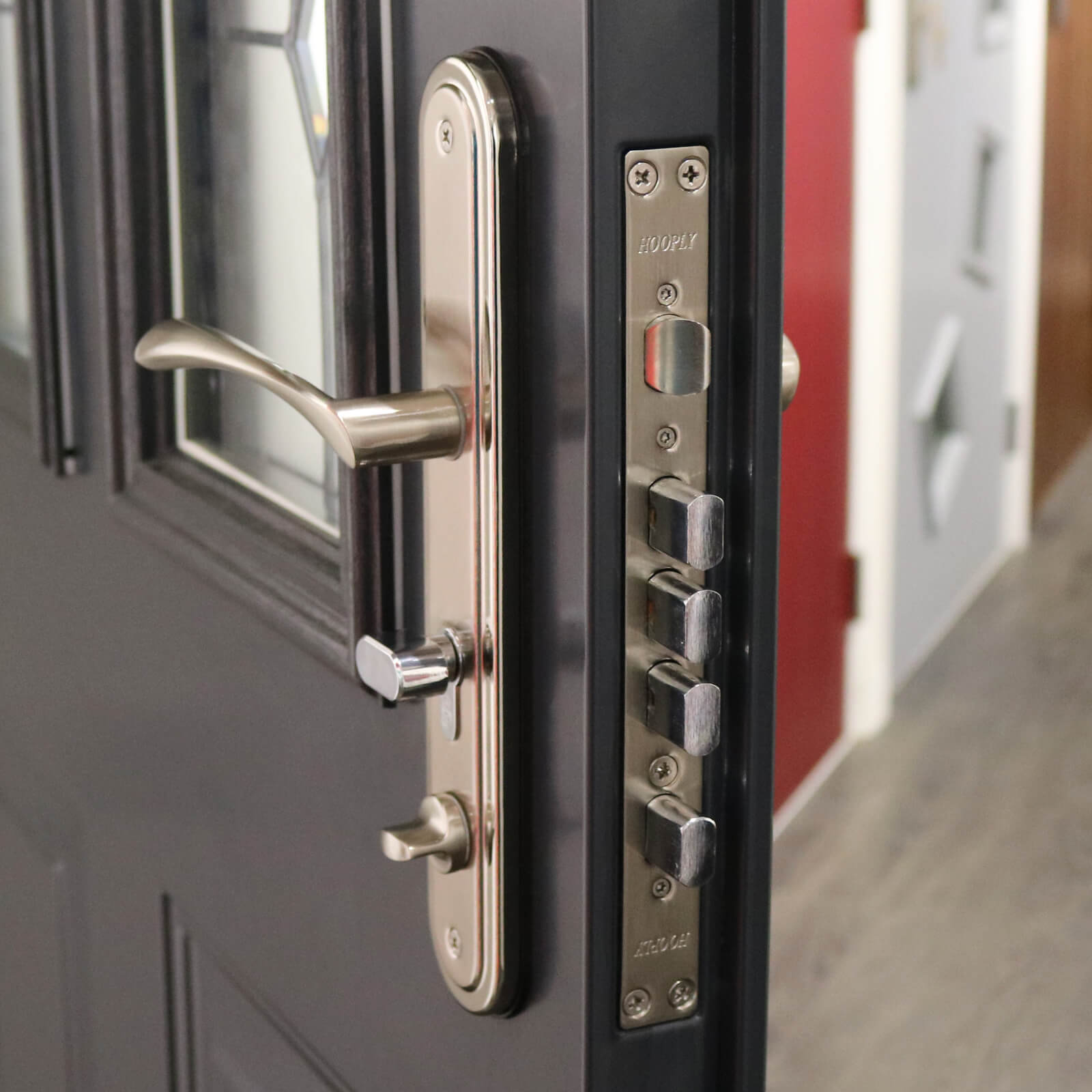 Steel security doors typically come with a multi-point locking mechanism which locks the door into multiple points on the door frame. Usually the mechanism will lock the doors in a minimum of 3 points but can go up to 4 or 5 (although at Latham's we're proud to sell highly secure front doors that feature 19 locking points as standard). Of course, the more points your multi-locking system uses, the more secure your door will be.
Typically, the multi locking system is controlled by one euro lock cylinder so it's also important to ensure that the euro cylinder has anti bump, anti drill and anti pick features. It's also important that it's the correct size and fits flush to the door so that a thief cannot get any purchase on it with pliers or similar tools. For further detail on euro cylinder locks, you can read our dedicated guide here.
You may also consider some form of coded lock or one that works using biometrics with advancements in recent technology for a keyless solution.
The Best Locks for Wooden Front Doors
There are a number of locks you may find on a wooden door. Below are the most popular: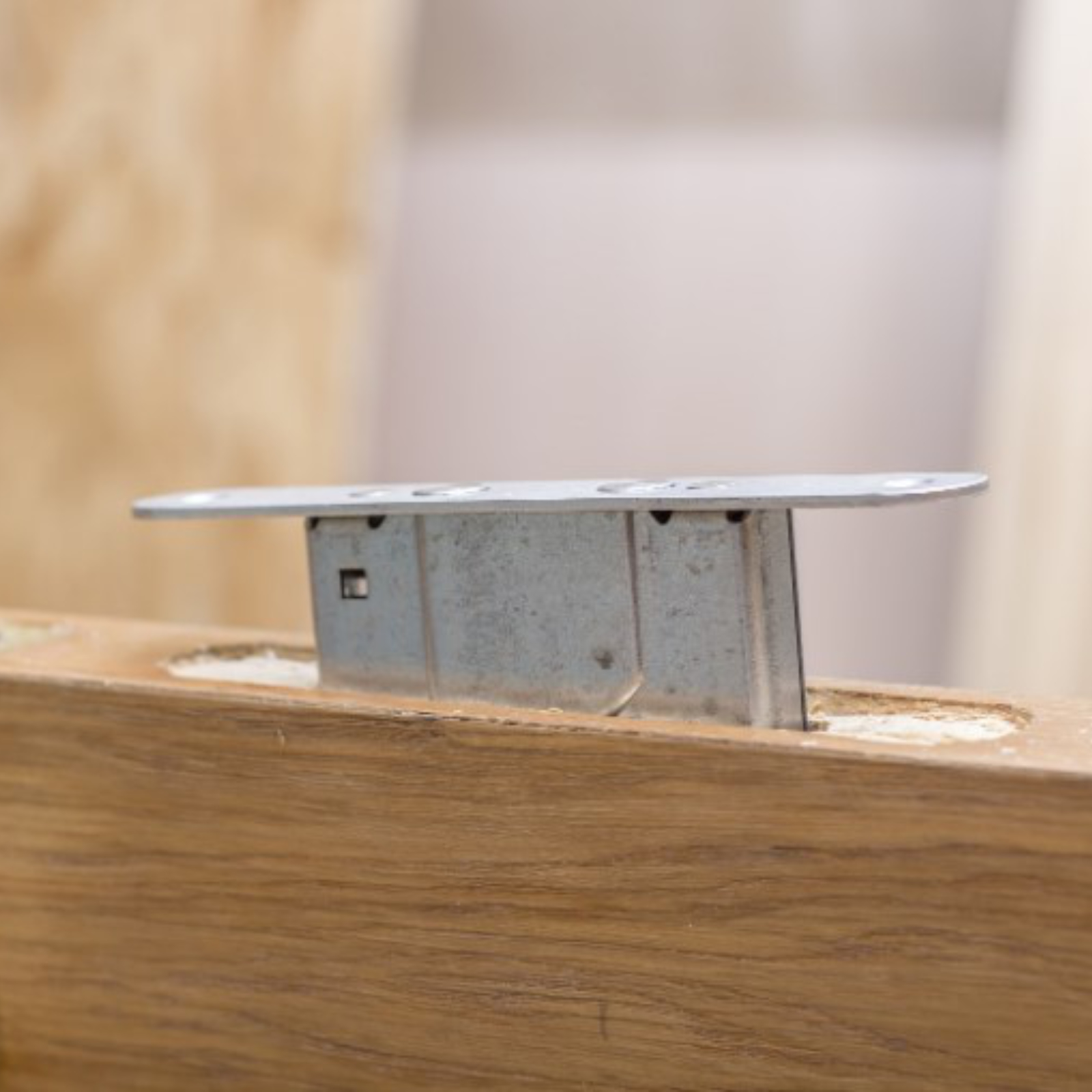 5 lever mortice deadlocks
5 lever mortice deadlocks are lockable from both the inside and outside with a key. This style of lock is fitted within the material of the door, rather than on the surface.
A 5 lever mortice deadlock is not to be confused with its less secure alternative – the 3 lever deadlock. Any locks with fewer levers increase the risk of key duplication, and may not offer enough protection for your premises to be covered by insurance.
It is recommended that, for a front door, you opt for one that conforms with the British Security standard, BS3621.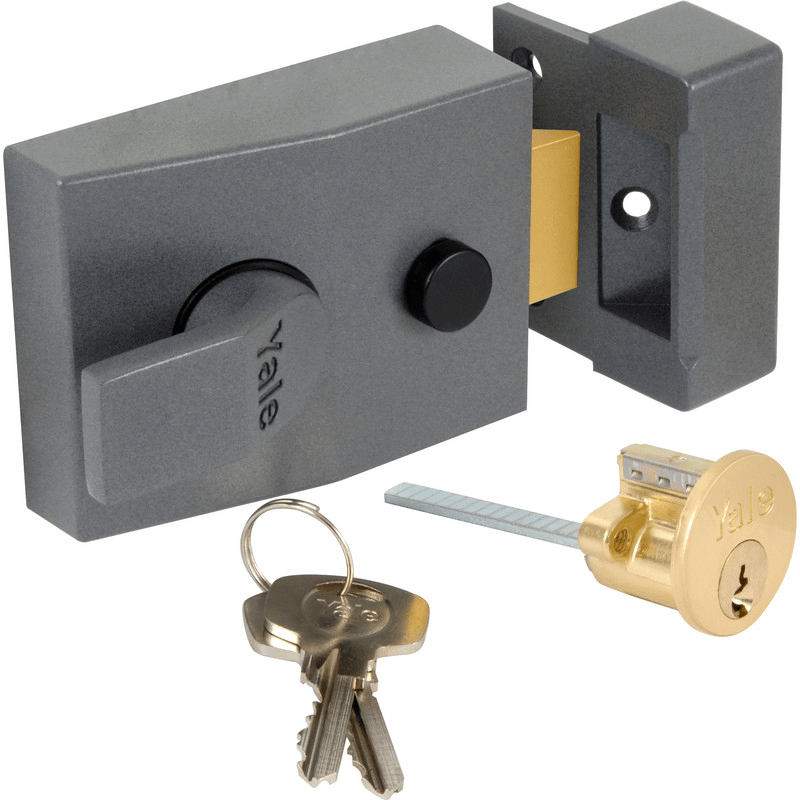 Night latch lock
Night latch locks are commonly referred to as 'Yale locks' and are most often used in domestic scenarios'. They are placed on doors that open inwards and mounted to the inner surface of the door. When the door closes, the night latch automatically latches the door shut.
You can stop the door from latching closed by putting the door 'on the latch', usually at the press of a button.
The most secure night latch lock would be an auto deadlocking one, approved to a British Standard of 3621.This type of lock will automatically lock when it is closed. Non-deadlock night latch locks are available, however, many insurance companies expect an additional lock, such as a deadbolt lock, to be fitted to offer a suitable standard of security.
Best Locks For uPVC or composite Front Doors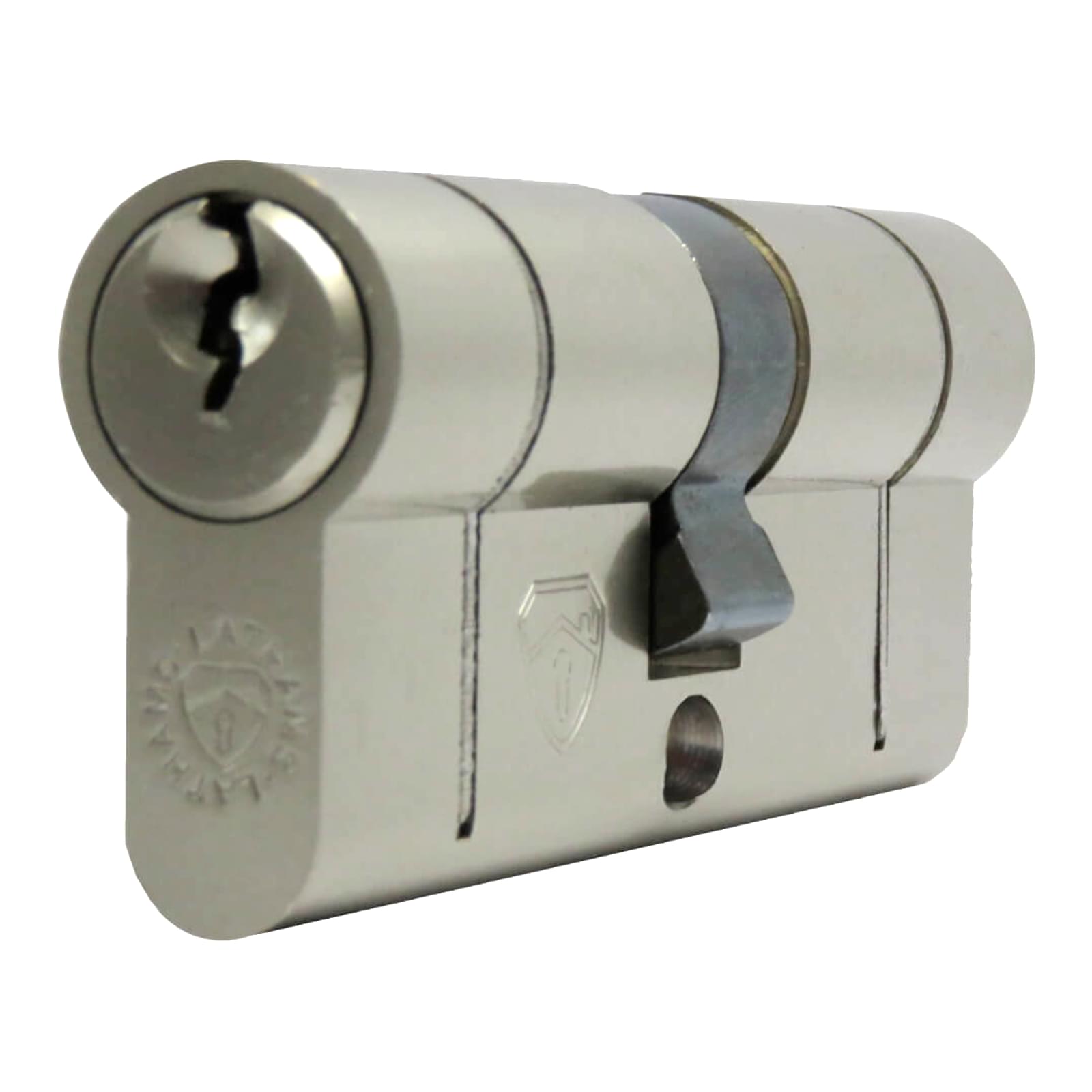 Euro cylinder locks are most frequently used with uPVC or composite doors. Double cylinder locks have a key cylinder on both sides of the door so a key must be used to lock and unlock the door from either side. This lock format is usually used for doors requiring higher security, such as front or back doors.
Again, you should use a cylinder lock that fits the door correctly and does not protrude too much from the door's profile. If any part of the cylinder is exposed, it is a potential vulnerability. Also ensure the euro cylinder has anti-bump, anti-pick and anti-snap properties.
Consideration 3 – Upgrade Your Door hinges
To ensure a high level of security, we recommend that you use hinge screws that are at least 3-inches long. Shorter screws are at risk of falling out over time or prised or bashed out of the hinge in an attempted break in.
It's also advisable that any hinge screws used on front doors are made from a strong, non-corrosive metal such as stainless steel.
If your door is outward opening, for further protection, you may consider installing hinge bolts (also referred to as 'dog bolts') that are designed to prevent the door from being taken off by its hinges.
If you're investing in a steel security door, be mindful to use strong steel hinges to support the door's weight. Weak hinges run the risk of the door snapping off at the hinge. We recommend purchasing the hinges the supplier recommends so that liability is on them.
Consideration 4 – Upgrade to a Security Strike Plate (if your front door is wooden)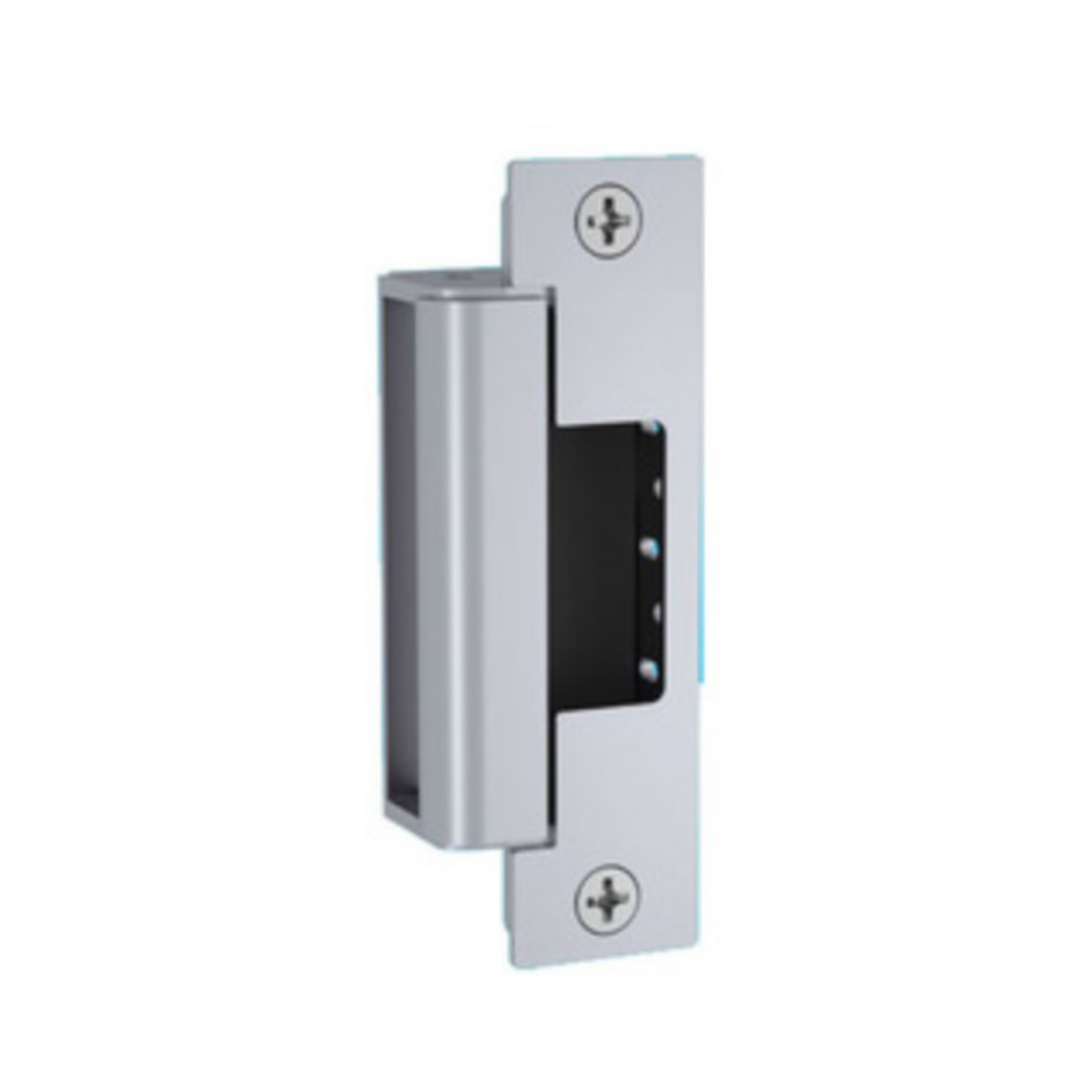 On most wooden doors you should find a strike plate installed. A strike plate is a small metal component screwed into the door jamb, and they are particularly recommended if you opt for a wooden door. The plate protects the door jamb against friction from the bolt. When the door is closed, the bolt extends into a hole in the strike plate and holds the door closed. Security strike plates are larger, thicker and more durable versions of traditional metal strike plates and provide additional protection against kick-ins, door prying, jam spreading and other attacks on the door lock.
For optimal security, the plate should be made of high-quality steel and long screws (over 3 inches in length) should be used. This reduces the chances of the strike plate being dislodged during a door jamb attack.
Consideration 5 – Replace the Glazing
If your front door has a single glazed window, we recommend that you replace the glazing in favour of double or even triple glazed glass where possible. Glazing which features a laminate coating is ideal as it means the shards hold together when the glass is broken making it difficult for an intruder to pass through.
Consideration 6 – Install a wide-angle peephole (door viewer)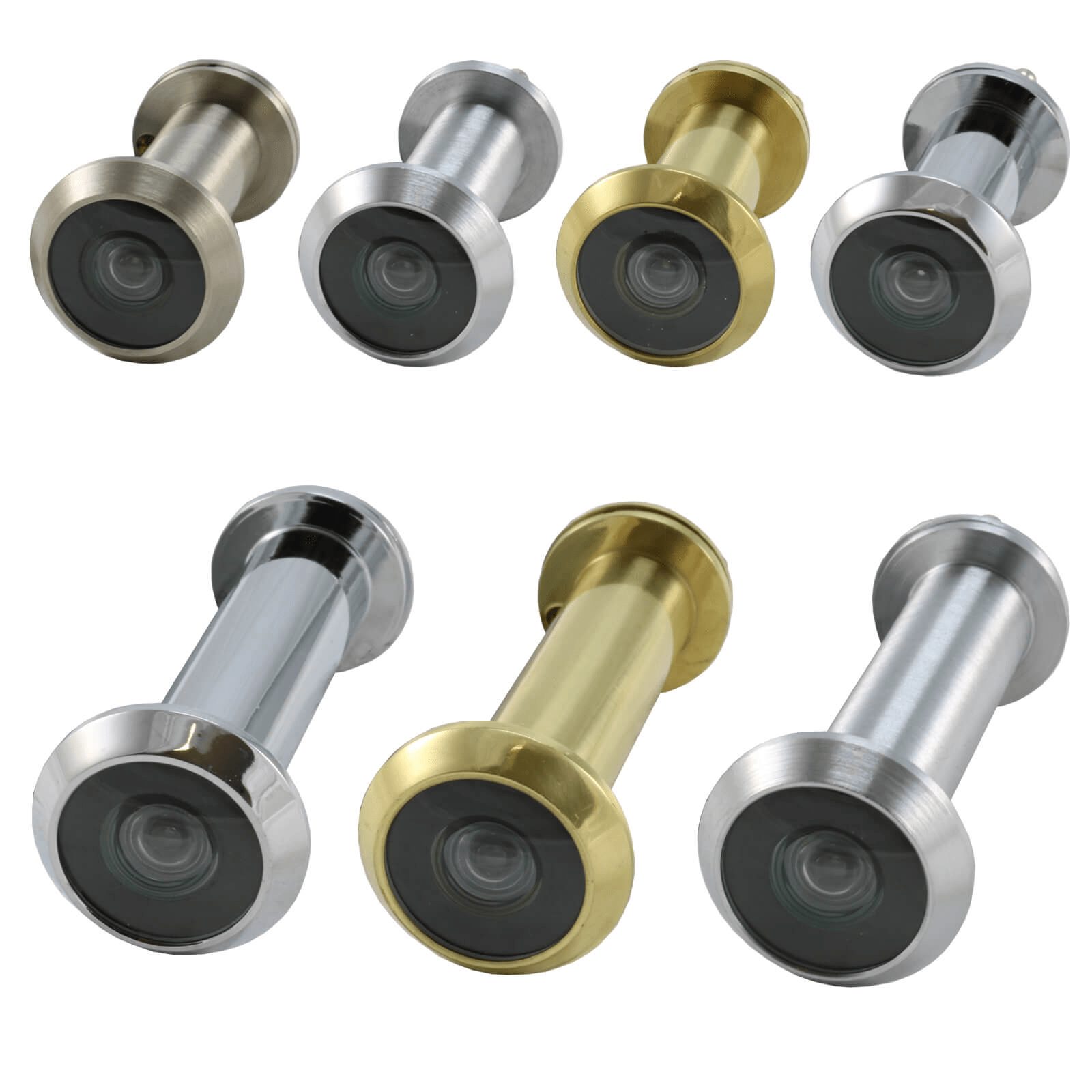 A wide-angled door viewer will provide a larger focal range over traditional peepholes; it'll mean you can see more of who is beyond the door without needing to open it. If you don't know who they are, you don't need to let them in.
Digital viewers are now also available. They offer a large display screen for you to clearly view visitors via a security camera and mean that you don't have to put your eye up to the hole to see who is there. It also means you get a much clearer, live image of who's standing on your doorstep.
So if you haven't already got one, consider installing a peep hole or digital viewer. If you do have one, consider upgrading.
Other Considerations
How Do I Protect My Letterbox?
Protecting your letter box, if you have one on the front door, is an important concern. To avoid access to the internal lock mechanism, or other items such as car keys, you should fit your letterbox over 40cm away from the locks and not at the bottom of the door.
For additional security, you can fit an internal letter box plate and a basket to catch your mail whilst limiting access into the rest of the property.
Security Shutters
Consider installing domestic security roller shutters on your property to provide an additional layer of defence from burglars. Twin-skinned insulated shutters made from aluminium (as opposed to steel) are aesthetically pleasing, operate quietly and will improve your home's insulation and security. 
If the property hasn't been built yet, you should consider installing "in-built lintel roller shutters". These shutter systems will double up as a load-bearing lintel and can be fitted into the walls for a more discrete look.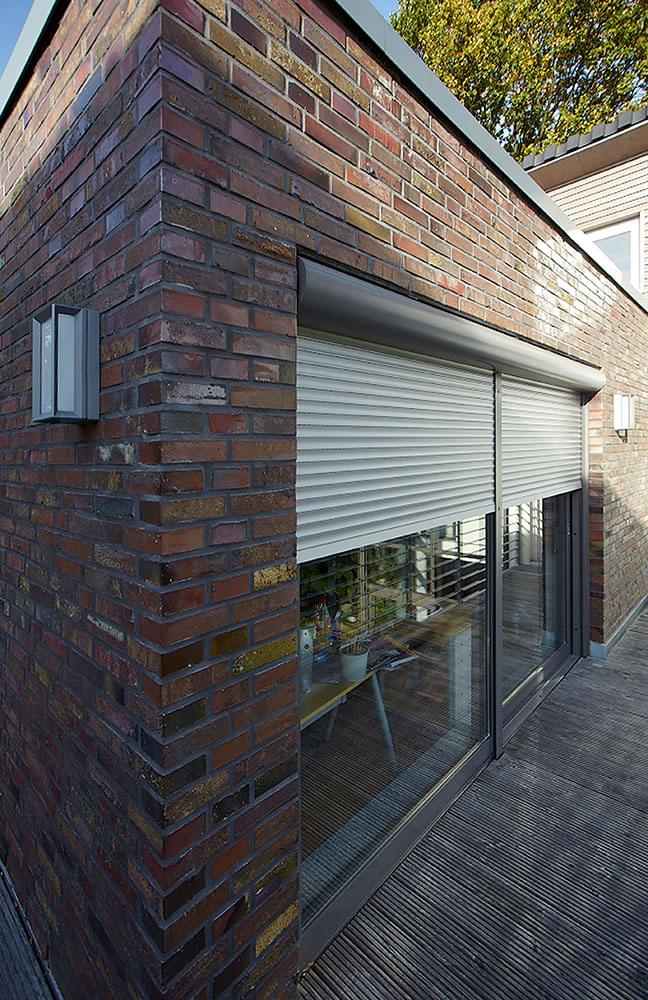 Lighting
Improving the lighting surrounding your doorway is likely to reduce the chances of an opportunist breaking-in due to the increased risk of them being seen. Using a motion sensor light is a good way to achieve this without running the risk of leaving the light on.
Before making a purchase, double check that the light is suitable for outdoor use.
Don't neglect the back door
Back doors are a common target because their security is often neglected. If your property has a back door, you should invest in the same security measures as you have for your front door and all the previous advice still applies.
The difficulty comes if your back door is a sliding patio door. In this instance, you should still ensure things like the euro locks have anti-snap, anti-drill and anti-pick properties and that the glass is double glazed and laminated. Additionally you may consider installing "push" locks in the top and bottom of the door so that, when the door is closed, you can add another locking point to it. If this isn't possible, you can place a metal rod into the door's track to stop it from sliding open when locked.