If you're in the market for a new door you might be considering whether you should purchase a door made from steel, composite, wood or uPVC.
A previous 'stigma' of steel doors was the connotation of their very industrial nature, which was perceived as unattractive and certainly not fit for use with residential premises.
Over the last few years, design and technology have come a long way and you can now purchase a steel door that looks just as attractive and "homely" as its traditional competitors. Take a look at this image of our residential range in our showroom. Can you tell they are made from such heavy duty materials?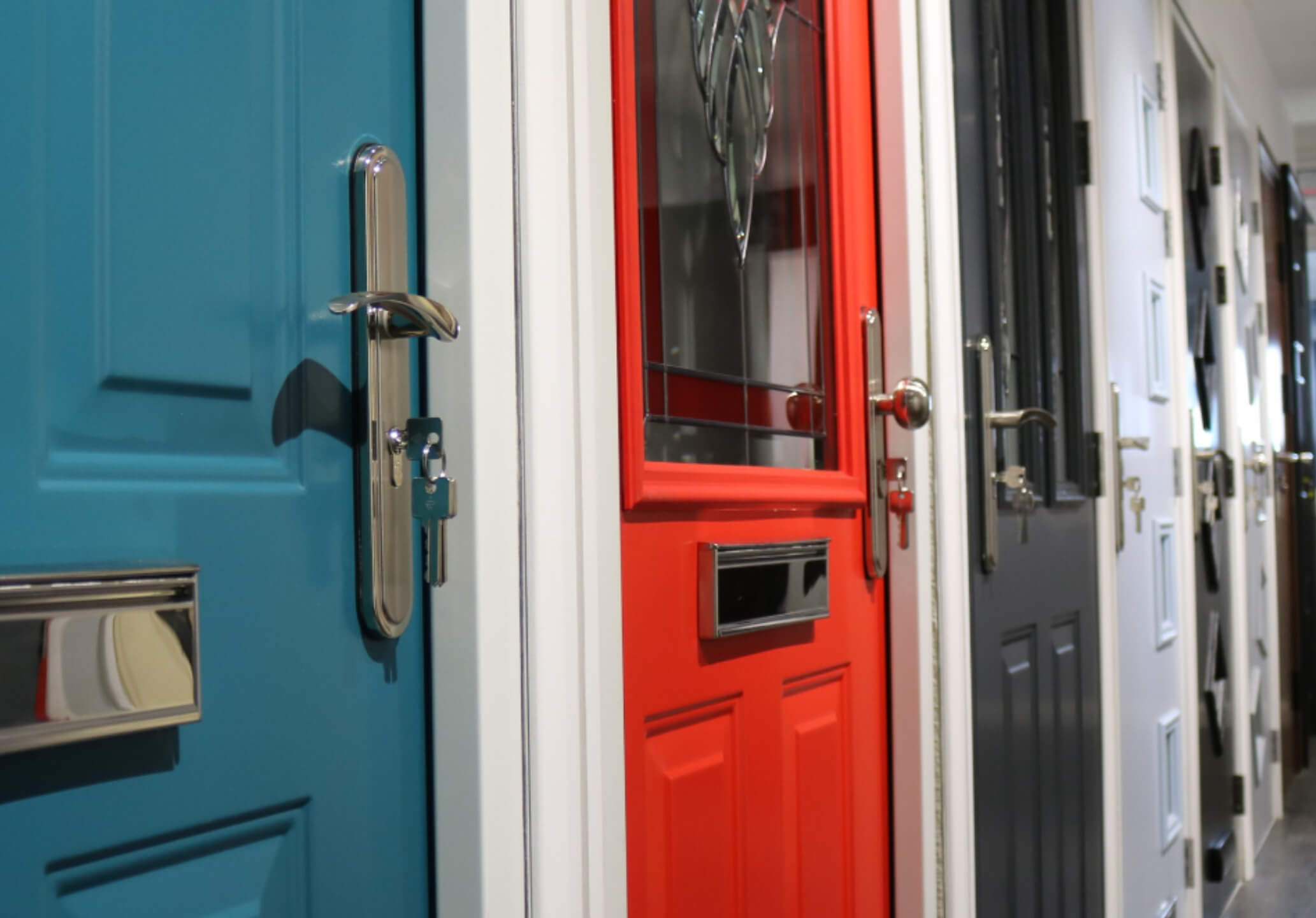 Keep reading our guide for a comparison of steel doors vs uPVC, composite or wooden doors and ensure that your new door will meet your requirements on price, longevity, strength, insulation and security.
Door material comparison at a glance
Type of Door
Price
Longevity
Strength
Insulation
Security
Other Features
Steel (Galvanised recommended)
£££
5/5
5/5
5/5
5/5
• Available in fire-rated designs
• Highly soundproof
• Energy efficient
uPVC (alternatively UPVC or PVCu)
£
4/5
3/5
4/5
4/5
• Energy efficient
Composite (Timber core)
££££
5/5
4/5
5/5
4/5
• Energy efficient
• Considerably soundproof
• Available in a wood-effect finish
Wood
££
3/5
3/5
2/5
3/5
• Compatible with mortice lock mechanisms
Steel doors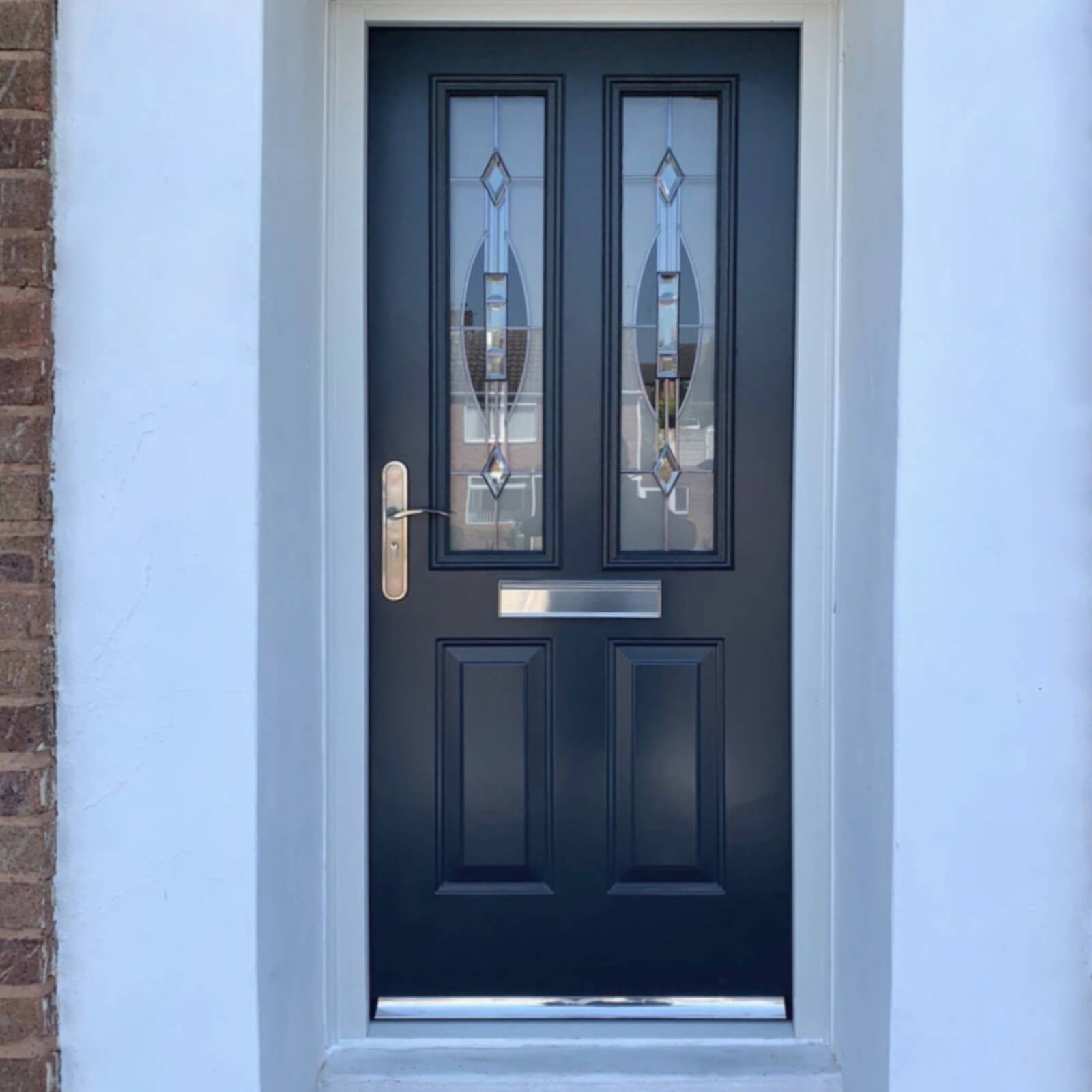 Steel front doors typically include a steel frame and are manufactured by filling a mineral wool, polyurethane or polystyrene foam core between two double skin steel leafs. The steel frame and double skinned leafs ensure the door is secure and won't warp over time whilst the core adds another layer of protection with the added insulation. If the door is made from galvanised steel and powder coated it'll last many many years without rusting or becoming weaker.
A door made from galvanised steel will be long-lasting, require low maintenance, offer high security and, because of their longevity, offer incredible value for money.
It's worth noting, completely solid steel doors are not widely available as they would be prohibitively heavy and would not be supported by the hinges.
Benefits of steel doors
Available in a range of thicknesses and weights. Typically, the thicker and heavier the steel that is used, the stronger it will be.
The accompanying door frames are also normally made of steel. This prevents the likelihood of splintering or snapping the frame to get access, as is so often the case with uPVC or wooden door frames.
The cores of steel doors can be filled with insulation, such as mineral wool or foam. This significantly increases the insulation of the door, improving energy efficiency and sound insulation. In fact, some of our steel doors can be rated up to 38dB.
Galvanised steel (steel immersed in molten zinc) provides an anti-rust, weatherproof finish, resulting in a product requiring minimal maintenance.
A decent powder coated finish will mean the door should never need to be repainted. This is not often the case with wooden doors which will likely require a repainting every few years.
Unlike uPVC or wooden doors, steel doors do not warp or react with moisture or extreme heat.
Steel doors are great at blocking unwanted noise. The acoustic value of doors is measured by the number of decibels that it can block. Look for this information in the manufacturer's product specification.
Steel doors are more resistant to fire by design. However, they can also guarantee against fire spread for a given amount of time if a fire-certified door is chosen.
A range of styles and colours are available.
Key factors to consider with steel doors
Heavy steel doors require strong, supportive hinges and frames to support the weight. Ensure that you opt for thick, galvanised steel hinges and frames (although ideally, they should come with the door).
Steel doors cannot be cut to fit, so you will need to measure the door opening accurately before making a purchase. Find out how to do this with our guide.
Recommendation: If you're purchasing a steel door from a stockist, ensure they use galvanised metal, have an efficient core and the doors are powder coated to a high quality. Fit the door with strong hinges and a frame to fully support the weight.
At Latham's Steel Doors, our range of front steel doors are supplied complete with frame and heavy duty hinges, boast thick steel leafs, mineral wool insulation and a range of optional extras, such as upgraded cylinder locking systems, are available for extra security.
uPVC doors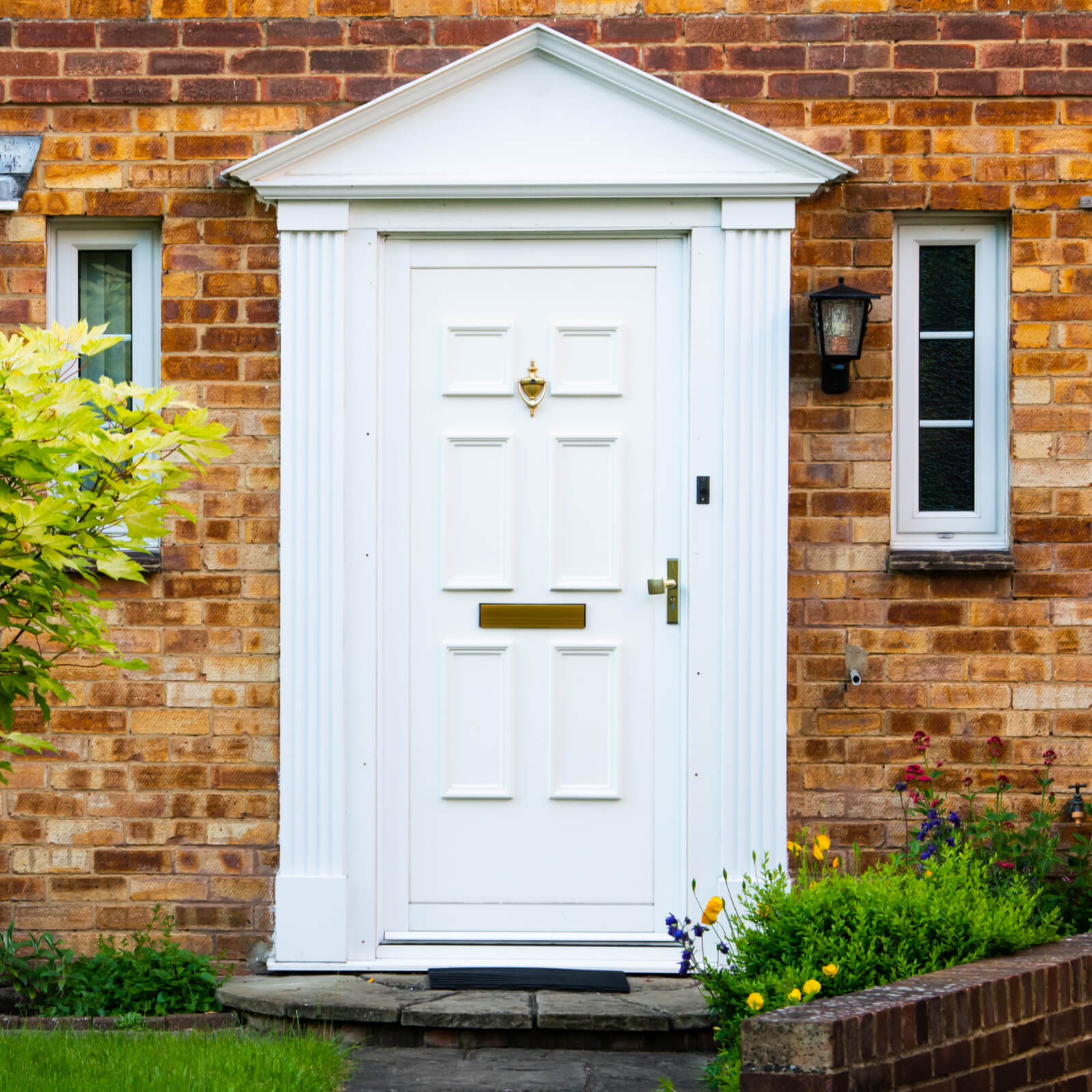 uPVC, or PVCu (Unplasticised Polyvinyl Chloride) doors are made from a form of hard plastic. The plastic is unplasticised, meaning no additives have been inserted during the manufacturing process. uPVC doors are commonly found on domestic properties and are used as front, back or patio doors.
uPVC doors are low-maintenance and very low cost. However, they are not the most secure door type on the market.
Benefits of uPVC doors
Easy to clean by wiping or hosing down.
Low maintenance paint-free surface does not require repainting.
uPVC is rustproof and largely weatherproof (although can start to warm in extreme heat).
If fitted correctly, uPVC doors are highly draught-proof.
A range of styles and colours are widely available.
Factors to consider with uPVC doors
Cheap uPVC doors can warp due to extreme cold or warm weather. uPVC is known to expand in the heat; at 40°C it is possible for uPVC frames to expand by up to 2.4cm. Warping can make them vulnerable to break-ins. If your door meets at the top and bottom of the frame but not in the middle, your door is likely warped and needs replacing.
Many door manufacturers reinforce uPVC doors by inserting a core of galvanised steel to increase the strength. Ensure your uPVC door has a steel core if you're worried about security.
Fire-rated uPVC doors are available but hard to source. Astraseal is a reliable manufacturer.
uPVC doors cannot be cut to fit, so you will need to measure the door opening accurately.
Steel doors vs uPVC doors
Whilst steel doors are slightly more expensive than uPVC, they do not warp, are generally stronger and therefore, more secure. Ensure the door is manufactured from galvanised steel and has been powder coated to a decent specification and the steel door will also have an incredibly long life.
The comparative longevity to uPVC, but increased security and additional other benefits (such as being more resistant to heat) mean steel doors are arguably a sounder investment than uPVC.
Composite doors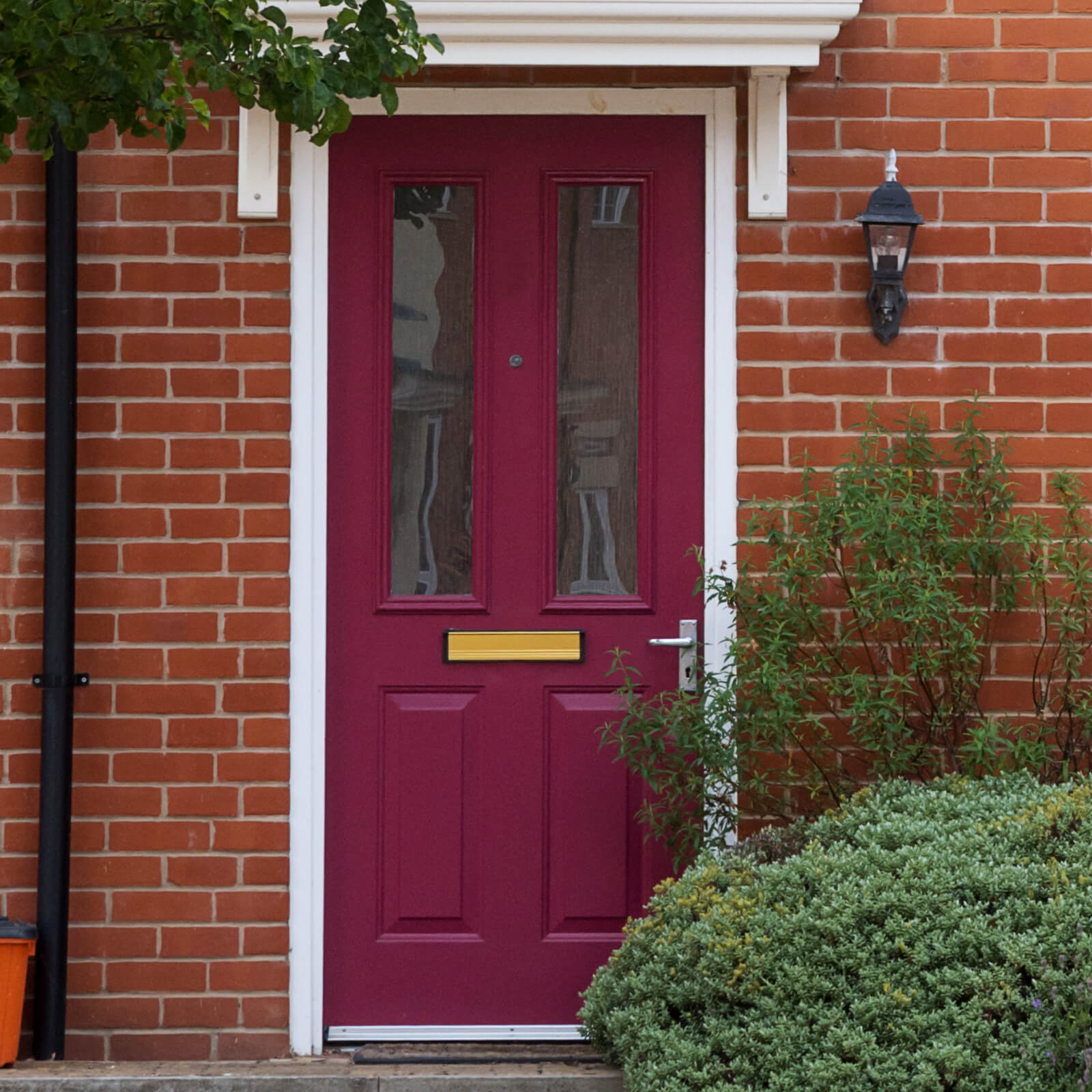 Composite doors are made from a variety of materials including uPVC and timber. The materials used are selected for their specific properties and are fused together to create an incredibly sturdy structure. Usually this involves a solid timber core that's been encased in a permanent uPVC fascia, styled and coloured to your liking.
Composite doors tend to be thicker than uPVC, and are considered a stronger, more secure and energy efficient choice. However, they do usually come at a higher cost.
Benefits of composite doors
Thermally efficient.
The solid timber core provides a strong defence against break ins.
Will last longer and is much stronger than wooden or uPVC doors.
Easy to clean, maintain and does not require repainting.
Composite doors are available in a wide range of colours and designs.
If fitted correctly, composite doors are highly draught proof.
Due to their thick, multi-layered design, composite doors are considerably sound proof. Check the manufacturer's product specification for full details on sound transfer.
Fire-rated composite doors are available.
Factors to consider with composite doors
These doors can swell in hot weather, especially if the door is south facing.
Typically, composite doors are more expensive than uPVC and wood doors due to their more complex manufacturing process.
Steel doors vs composite doors
Whilst both options offer an aesthetically pleasing and high degree of security, a basic steel door is just that little bit stronger by design, but will also come with a wider range of security upgrades (such as thicker steel etc). Standard steel doors are also able to withstand higher temperatures and are generally considered safer in the event of a fire over a standard composite door, especially if they are fire certified. Furthermore, composite doors are normally made to measure making them that little bit more expensive than steel doors.
Wooden doors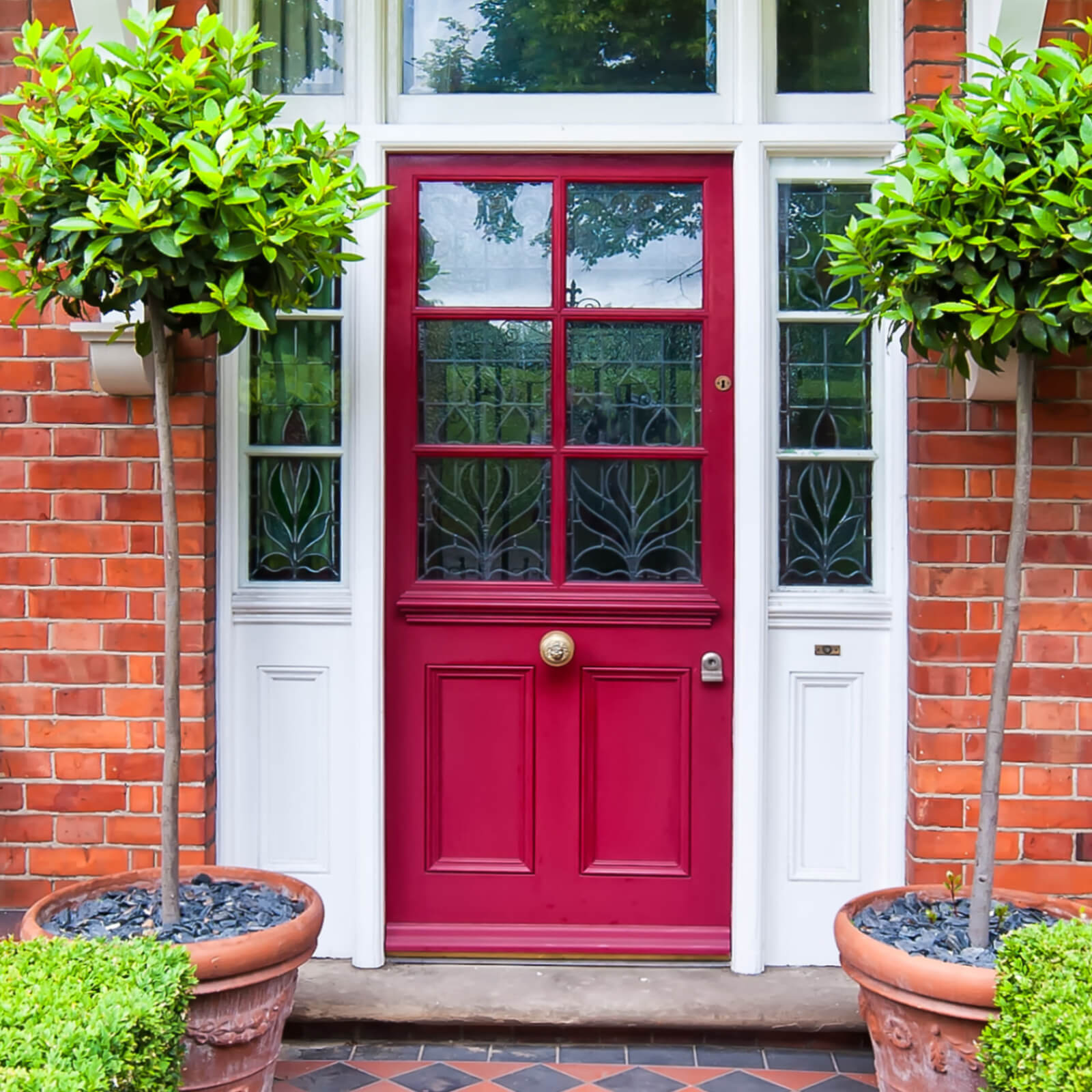 Wooden doors can be made from a range of different hardwood types, including oak, elm, beech, mahogany, walnut or sycamore. These doors are best suited for those seeking a more traditional look and feel.
Benefits of wooden doors
A wide variety of designs are available.
Can be refinished or repainted to change the style.
Can be trimmed to fit.
Factors to consider with wooden doors
Regular maintenance is usually required to ensure that the wood remains weatherproofed over the years.
The door and frames are susceptible to rotting and warping if they are not maintained.
Vulnerable to brute-force break ins if the wood of the door or frames is not thick enough or is damaged/warped.
More susceptible to attacks involving saws and drilling tools.
Wooden doors are considered to be one of the least fire-safe options because there is often a gap between the door and the frame. However, fire-rated timber doors are available.
Recommendation: If you do opt for a wooden door for external use, we recommend that you go for one made from a thick, solid wood for a higher level of security. We also recommend that you regularly maintain the door by refinishing and repainting it to ensure that it remains weatherproof and does not warp. To defend against kick-in attacks, you can reinforce a wooden door frame with metal strips. Here's a how-to guide.

Steel doors vs wooden doors
By design, a standard steel door is generally considered to offer much greater security than a standard wooden door. Furthermore, a galvanised steel door that's been powder coated will require much less maintenance than a wooden door which may rot or warp over time unless it's regularly painted. There is also a greater variety of locking options available for a steel door, although we'd recommend a multi locking point system.
Is security one of your key concerns? Find out more about how to improve your front door security.