Finish
A previous 'stigma' of a steel door was the connotation of their very industrial nature, which was perceived as unattractive and certainly not fit for use with residential premises.
Things have come a long way of recent with advances in materials, styles and hardware, you'd be hard pressed to tell the difference with more traditional Composite or uPVC doors.
Price
Steel door prices are now more competitive than ever and play a big factor in your buying decision. Until recently, a steel door was manufactured to order and therefore demanding a significant premium over uPVC and composite doors. Steel doors are now priced less than composite and uPVC doors, with our pre-finished steel door range starting from just £139.99+VAT including the steel frame, hardware and weather seals.
Even when you step up to our highest security stock door, the ultra duty door, priced from £309.99+VAT, there is no comparable product in uPVC or manufactured from composite materials that even compare to the sheer strength of this door at this price.
Security
Steel doors are some of the most secure doors on the market, dependent on spec of course. Weighing from 50kg up to 150kg, our doors offer unrivalled levels of security.
Even our budget doors increase the security of your home compared to a comparably priced timber or uPVC door, with heavier duty ranges to choose from. We offers various strengths in our range to fulfil your requirements.
Insulation
A misconception in the market is that steel doors don't insulate well, since they're constructed from metal which conducts temperature.
However true that is (that metal conducts) we compensate for this with a thick insulation of mineral wool to achieve superior thermal u-values and an acoustic value of up to 38db!
Longevity
By far the most attractive proposition of a steel door is its minimal requirement for maintenance. The hardy polyester powder coat finish will last for years with the chance of rust eliminated by a galvanised coating to all steel raw materials.
Steel doors won't warp or twist over time either, unlike composite and timber doors.
A Natural Fire Door
Although not all steel doors are fire rated, they are made of a material that is by far the best for sealing an opening to stop the spread of fire. You must choose a certified steel door if you do require a fire rating, but when comparing steel with plastic and wood, you can see why they're the latest preference with building control.
Our steel doors VS UPVC Doors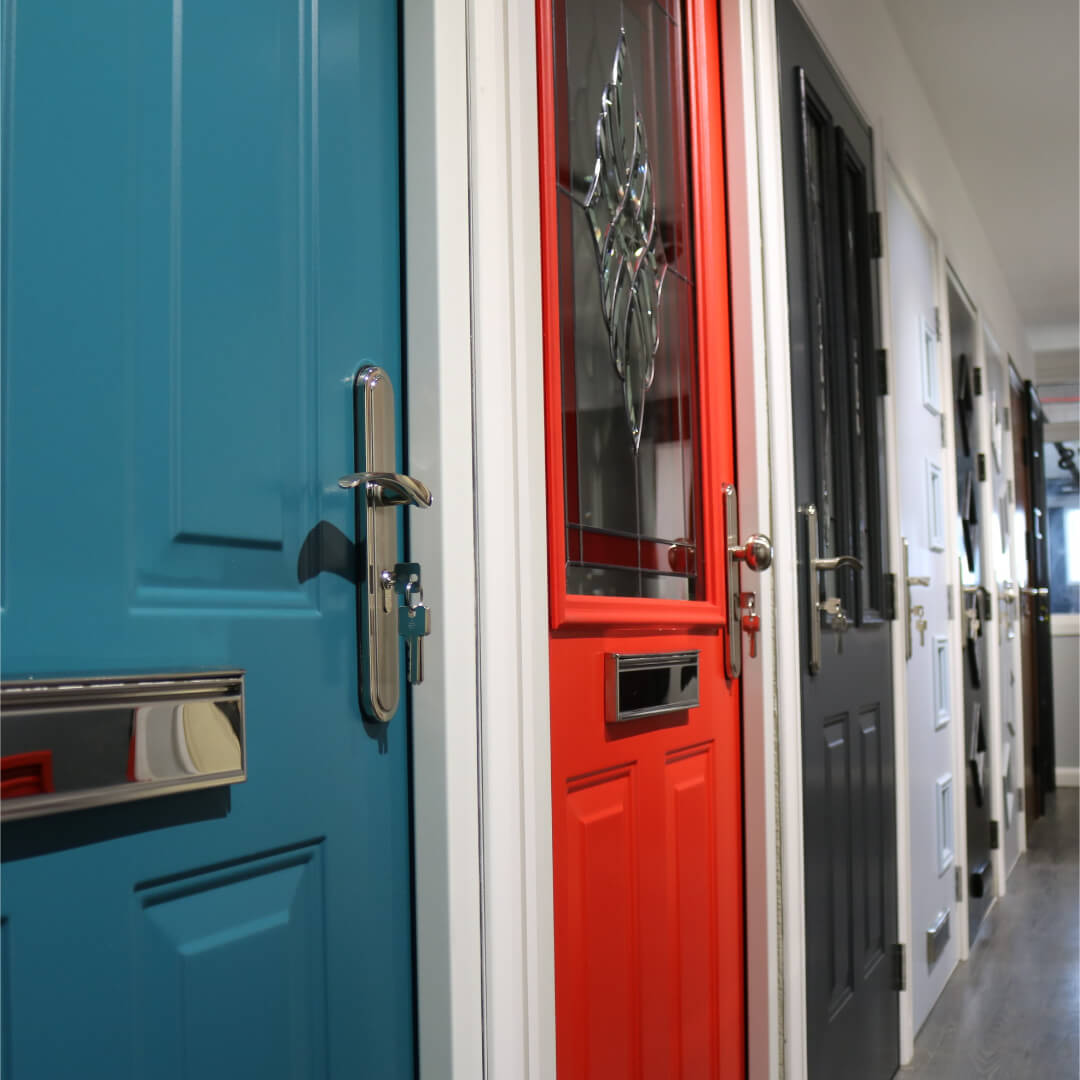 Many do not realise the cost effectiveness of our steel doors. Some are sceptical until they see our reviews online. In appearance, they are extremely similar to a traditional PVC door, however, they offer many benefits.
An entry level uPVC door from a typical DIY superstore costs about £300-600. Whilst being contemporary and aesthetically satisfactory, it offers little in the way of security; for an experienced thief, a typical entry level door shouldn't be difficult to break in to.
Our security front doors cost about the same, but have a number of features designed to make unpermitted access as difficult as possible. The first being the security multi point locking system which secures the door in 19 points. Along with the integral anti jemmy-bar lip, and heavy duty construction, they are much more secure than a traditional uPVC or wooden front door.
They're finished in a white powder coat as standard, although we offer a huge range of stock alternative colours, finishes and ironmongery, meaning our doors can fit in with the aesthetics of any property.
Constructed to the same specification as our steel security doors but available in 3 styles: Contemporary, Traditional 6 Panel and Cottage Design, they are perfect for domestic applications. They are strong enough to deter some of the most determined criminals without looking like they're made from such heavy duty materials.
There are many steel doors to choose from to suit your application. They are the most customisable as you can choose the colour, hardware and glazing options too. The security upgrades are endless, from upgrading your euro cylinder to a 3* kitemark, to a manually operated set of drop bars.
There are many options and our customer advisers would be more than happy to talk you through your requirements.