Your front door colour is one of the best ways to make a statement that compliments your home and suits your personal style. The right front door colour can reveal more than you may realise, so before you examine your colour options it helps to know the significance behind the various colours, and which colours blend harmoniously together. on to learn more about each colour and what they symbolise. We can help you find the perfect colour for your front door with the use of our colour charts.
Door Colours – What Do They Say About You?
Red
Welcoming | Confidence | Passion
Red is historically known to be a welcoming colour in western culture. Depending on different traditions, this particular colour is connected with positive energy and pride. It easily attracts attention, radiates strength and confidence. It will certainly give the overall appearance of your home a prosperous vibe.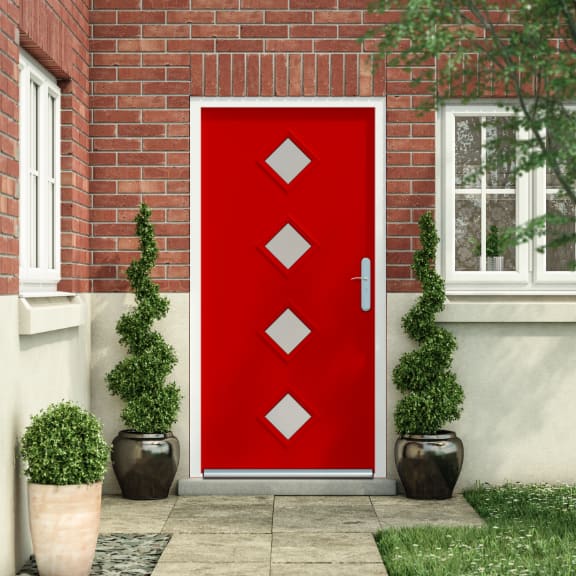 Primary red blends very well with other colours including:
Brighter, tomato reds blend well with:
Darker, cherry or wine reds go with:
Try to avoid earthy colours, like juniper green and jet black.
Orange
Enthusiasm | Warmth | Creativity
Feng Shui element – Fire/Earth
Orange has high visibility and people are naturally drawn to brightly coloured features. Orange is the perfect colour if you don't shy away from making bold statements and want to highlight the enthusiastic and quirky side of your personality.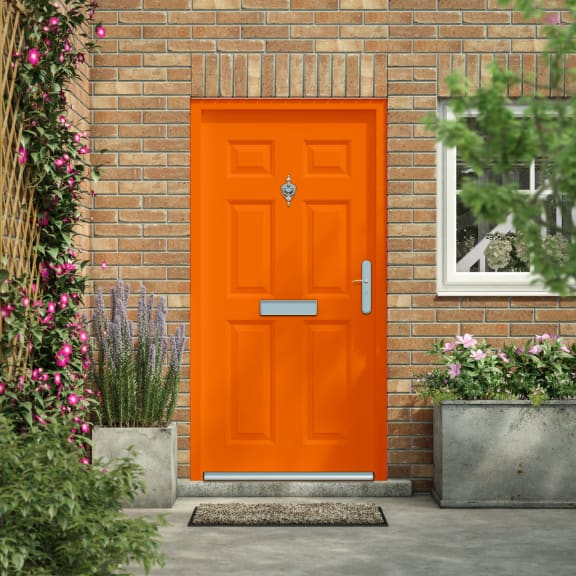 Orange blends well with autumnal shades such as:
Try to avoid darker shades of blues and greens.
Yellow
Happines | Upbeat | Exterversion
Feng Shui element – Earth
Yellow doors are pretty uncommon. When you do see them, they are often associated with youthful energy, happiness and extraversion. Despite its upbeat personality, this colour has humility and a nurturing, peaceful tone to it as well.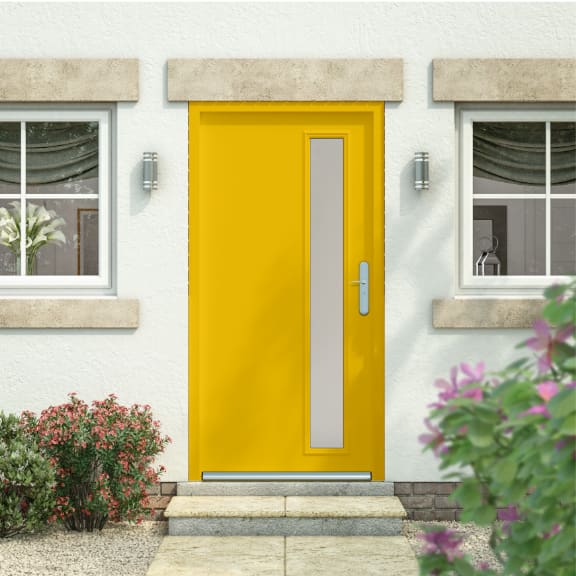 As yellow is noted for its intensity, it is best paired with the neutral hues, such as:
Mustard-y hues are trickier to get right and need careful thought. Whichever way you prefer, having a yellow coating on your front door will certainly give you a friendly curb appeal.
Green
Serenity | Nature | Growth
Green is one of the best-selling colours in the UK. Traditionally, this colour represented wealth and ambition, but now it invokes a serene feeling and has a refreshing appeal. It indicates that you value nature and growth, health and community and strive for personal betterment. Green is a generous colour and people will feel unconsciously welcomed when they see a green front door.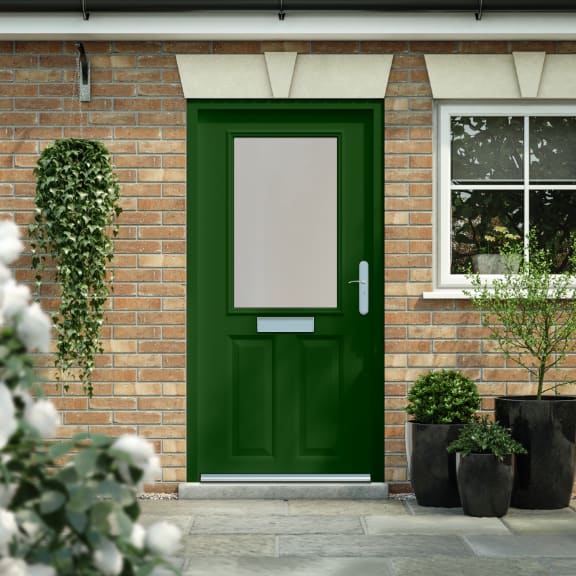 It is a great colour for exterior painting works. Brown and Grey are good neutral colours to blend with, as well as more vibrant colours such as:
Don't be afraid to pick a vivid green. Any blends that come out too neutral and your front door may seem a bit bland. Try to avoid whites & reds.
Blue
Intelligence | Elegance | Tranquillity
Feng Shui element – Water
Blue is a versatile colour and can easily be schemed with other colours, depending on the shade you go for. It is also a common front door colour.
Blue can symbolise a few things. In general, it is a cool colour that instils feelings of trust and carries an intelligent personality. Lighter shades can give a sense of calm or casual vibe, yet carry hints of sincerity and elegance. Darker shades will project a sense of sophistication and tranquillity.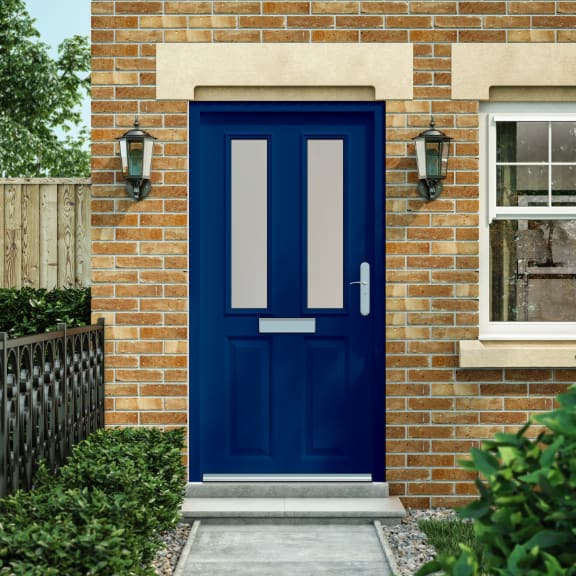 Light blue shades look lovely with:
Darker shades look great with bold colours like:
Violet
Beauty | Soothing | Spirituality
Feng Shui element – Fire/Wood
Violet is a delicate colour that invites opportunity and open-mindedness. It is commonly associated with royalty and glamour. Violet is an incredibly spiritual colour that not only oozes abundant and prosperous energies, but also brings a sense of beauty and self-worth.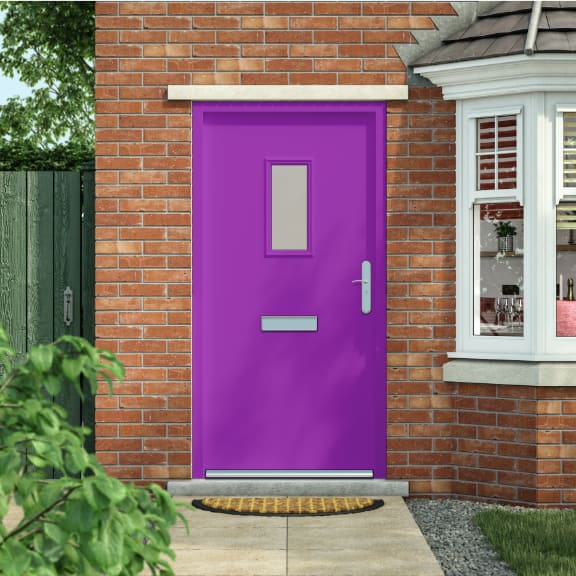 Violet can either be warm or cool depending on the undertones. Colours that compliment basic shades of Violet are:
A royal purple works well with:
If you find this slightly overpowering and you need to soften it, pair it with a Chartwell Green. Any shade of violet that you choose will bring a soothing and calming effect on any door step.
Black
Classic | Strength | Sophistivation
Feng Shui element – Water
Black has the classic 'London look' that evokes formality, strength and wisdom. It carries inclusive and positive vibes for a colour as deep as this. It also instils ideas of close social connections, networks and has a sense of community support.
It is best to pair black with warm, earthy colours. Taupe or van dyke brown is great for that warm energy; white for high contrast, oxford blue for an eclectic mix, beige for calm and collected, squirrel grey for sophistication, or a juniper green for a luxurious feel.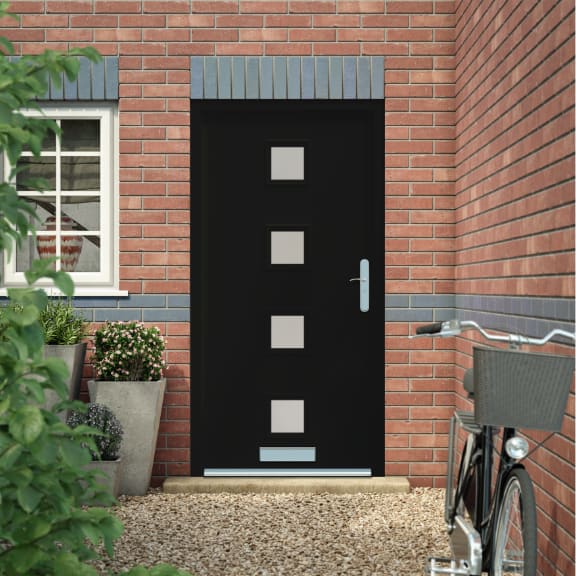 Grey
Reliability | Sincerity | Mindful
Feng Shui element – Metal
Grey is often seen as a front door colour that wants to evade attention and is emotionally detached. This is not the case at all. While the colour implies sincerity and security, grey is a mixture of black and white, which combines senses of wisdom and clarity to produce an aura of mindfulness.
Grey is a smart colour for any front door, particularly on steel doors. White and Beige are suitable, but if you want a more dramatic colour scheme, you should go with red hints. Peacock Blue, Chartwell Green, Tawny Orange and Blush Pink all work well with grey, to give your front door an energetic kick if you're looking for one.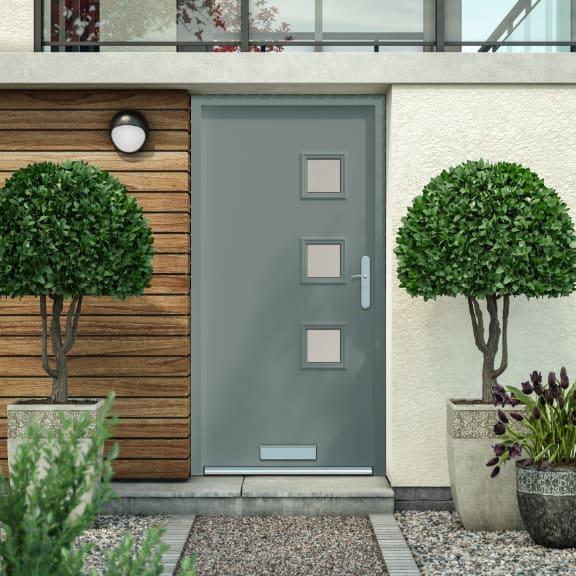 Grey is a smart colour for any front door, particularly on steel doors. White and beige are suitable, but if you want a more dramatic colour scheme, you should go with red hints.
Try to avoid bright yellows.
White
Feng Shui element – Metal
White is a very common colour for front doors in the UK. Bright and basic – there are many shades of white, which symbolises feelings of purity, cleanliness and clarity.
If you want to marry any strong colour with white, you should consider colours like; oxford blue, jet black, spring greens, oranges and deep reds.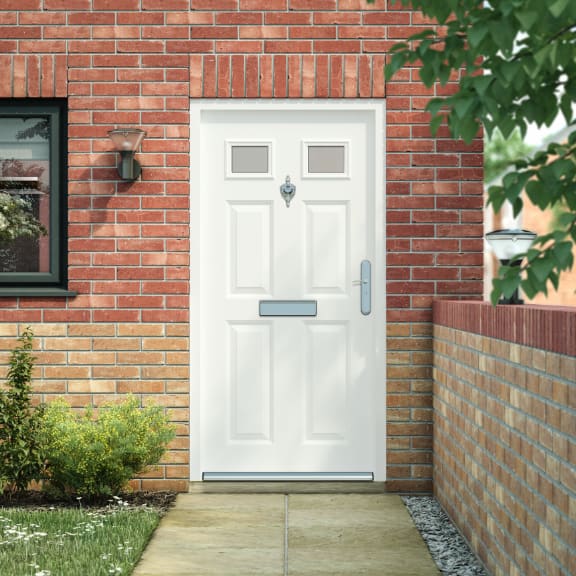 Brown (Natural Wood)
Traditional | Stability | Familiar
Feng Shui element – Earth
Brown, or Natural Wood front doors are very traditional and give a warm welcome to anyone. The colour indicates stability and reliability. Most likely someone with a brown front door enjoys the quiet, private life. Not to say they are uncaring or reserved – just maybe not as eccentric as the neighbour with the yellow front door.
Minty shades of green, pastel blues, golden yellows and shades of orange are lovely mixes with brown.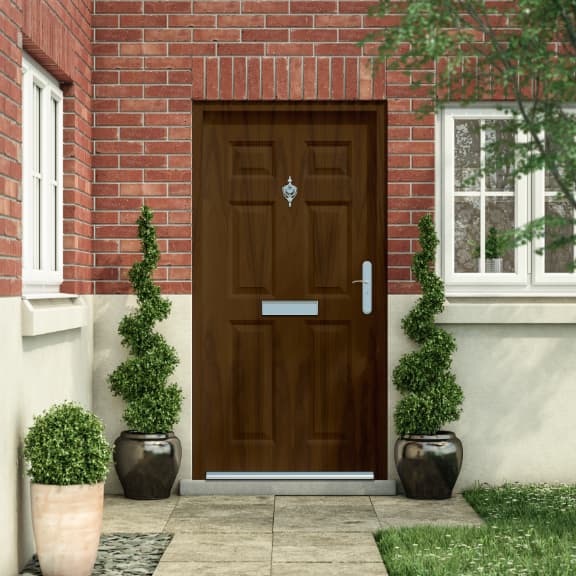 Picking a Front Door Colour by Building Material
Now that you know a thing or two about front door colours, you will need to consider the architectural style and location of your property before deciding on a colour. Below are recommendations to help you find that "curb appeal".
Architecture
Period Properties
The big question here is whether you need to go with bold or subtle colours. Using traditional colours are recommended as they work well with period properties. Classic colours are sympathetic towards the style of any period property. They represent their elegance, grand nature and, most importantly, like to make a statement. These are also perfect colours for more modern style homes.
Terraced Housing
Using bright colours will add a cheerful and inviting touch to your front door, as well as standing out compared to other houses on your street. Use reds, oranges, yellows, black and lighter shades of green. If you are nearer the coast, you can use "pastel" shades if you wish.
Country Houses
Natural wood stains and varnish are common choices for country house front doors. Their natural authentic materials complement any house situated in the countryside.
Costal Properties
Pastel colours have always been a popular choice for the woodwork of properties by the sea. Using clear, light blues, greens and sandy colours are perfect for giving anyone a visual connection to the sea or beach.
Contemporary Homes
Usually the choices for modern front doors come in natural wood materials and/or glass.
A mix of traditional and "stoney " shades look stylish on a contemporary front door. The colour of the building materials (the brick or stone) should be taken into account when choosing a front door colour.
Building Materials
Matching the colour of your front door to the material your house is made from can be really difficult. Most houses in the UK are made of stone or brick, but the natural hue of these materials can vary significantly. If your house is built from neutral-coloured stone, you have a few options to choose from.
Landscape & Surroundings
If you live in a city or suburban area:
Strong, traditional colours:
These are best suited for townhouse properties. Black, red, marine/teal blue and eau de nil are popular colours in areas like London.
If you live in the countryside:
Neutral and earth colours:
These have a rustic appeal and are more suited to country houses. Green, blue and grey are good choices for properties located in conservation areas, or on heritage properties.
If you live by the coast:
These smoothly blend in with the surrounding coastal landscape and boost your home's aesthetic appeal.
Need some front door ideas? Latham's front doors have been designed with simplicity and style in mind. With sleek detailing and a range of colours to choose from, these doors will add a touch of elegance to your property.
Pick a Front Door Colour – Colour Charts
At Latham's, we offer a variety of colours to tailor your front door to match your home. You may pick any one of these options.
Alternatively, you can choose a "Custom RAL/BS Colour" option which will allow you to pick a different shade or variation of colour from the following RAL and British Standard (BS) colour charts.
It should be noted that some colours in the charts below are known by different names (this will vary depending on your supplier). However, they are produced colour accurate to the code.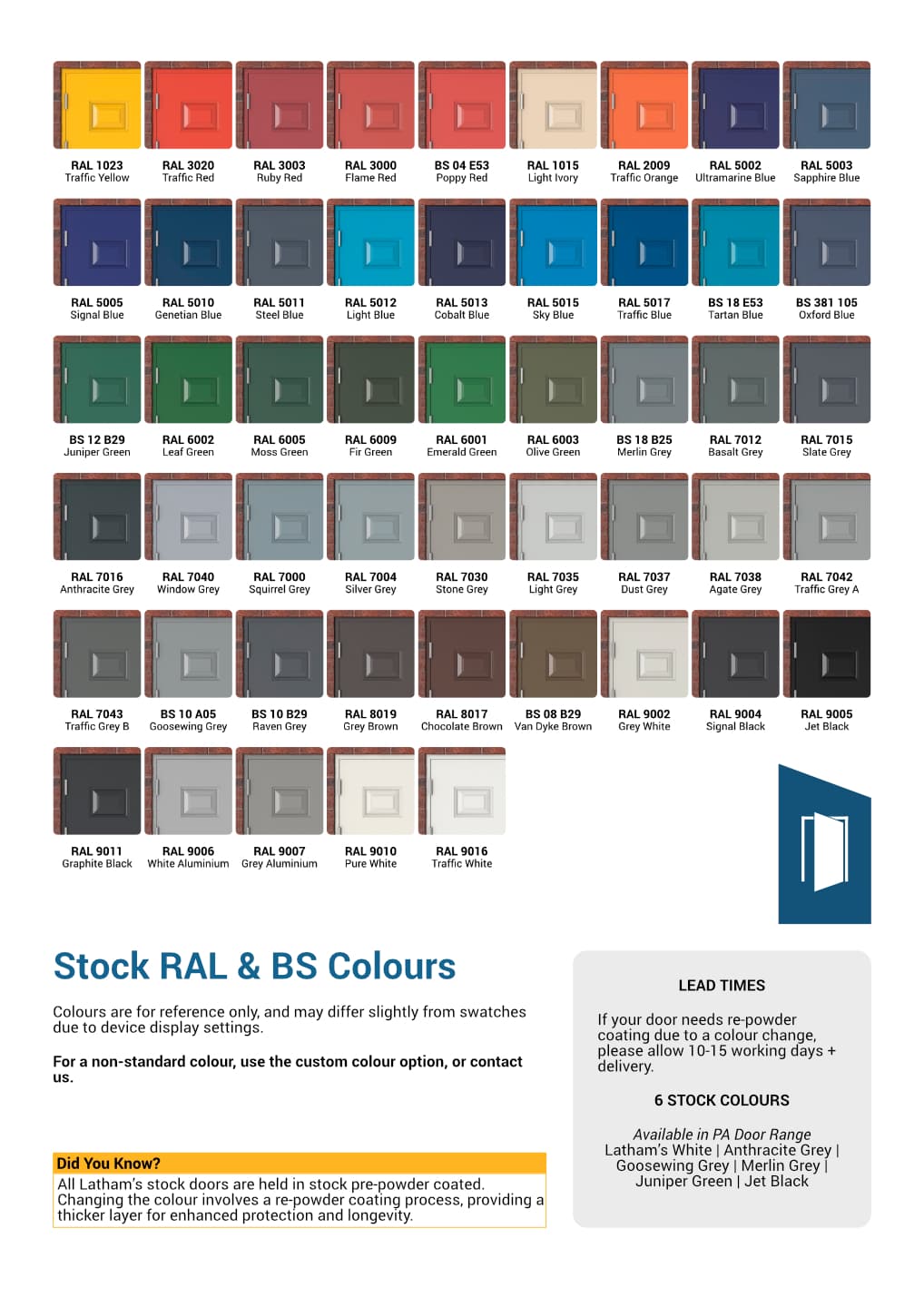 Please be aware that the following charts are a digital representation of paint colours and as such there will be a variance when compared to the actual paint (although every effort is made to match the colours as closely as possible).
Digital colours will vary based on computer and monitor settings, and printing the page will also not be colour accurate due to printer settings and inks used.
Pearl or metallic colours cannot be shown adequately and the type of powder coating (wet or dry) will also have an effect on the finish.

The finished colour, therefore, may not be exactly as shown here. The charts are a guide and intended for reference only. The following charts can also be found at Colour Chart Guides.
RAL Classic Colour Scheme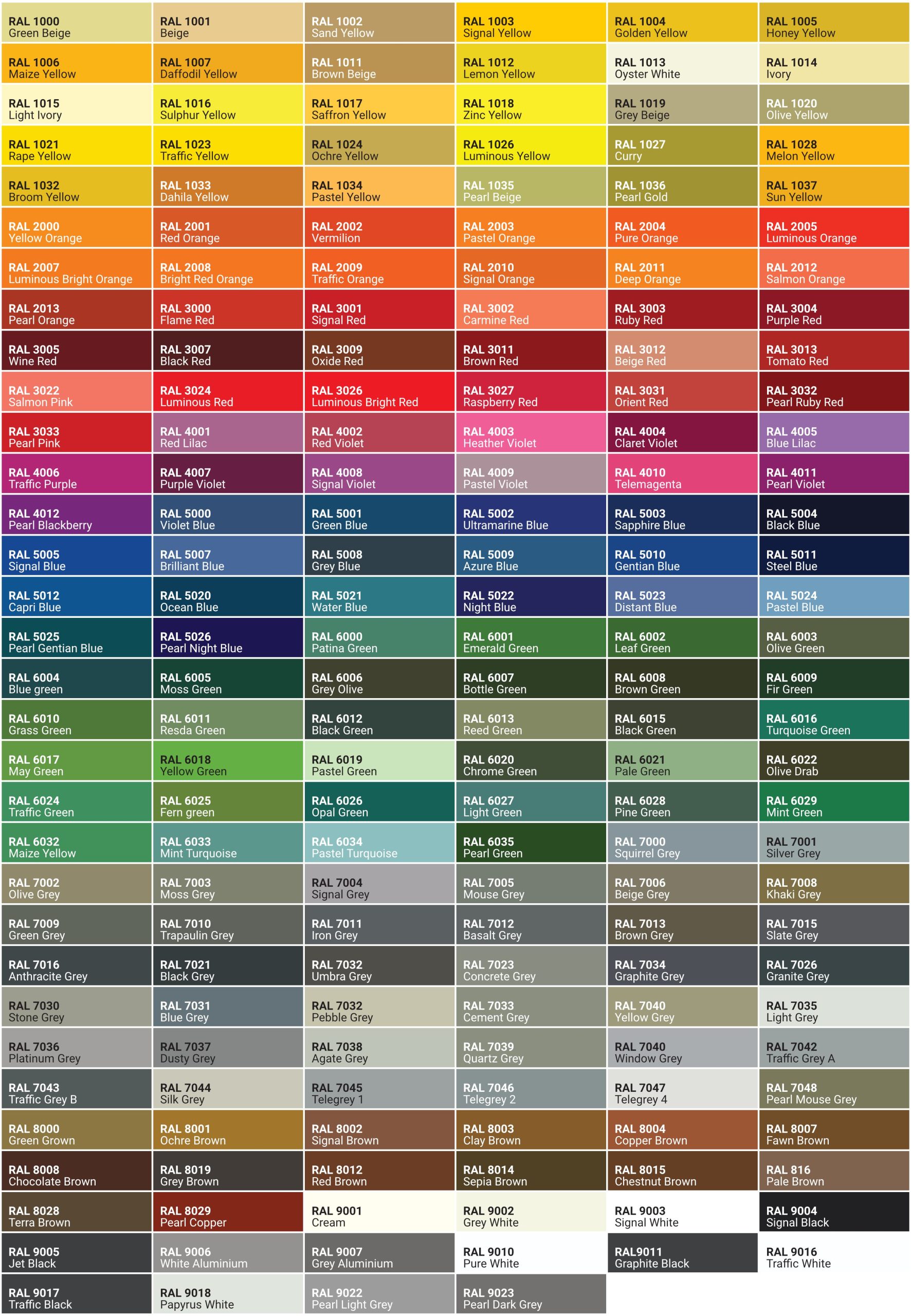 Our doors can be powder coated to any RAL number. So, whether you're after an Ultramarine Blue or a Chocolate Brown just let us know.
BS 4800 Colour Chart
The British Standards guarantee a certain level of quality and consistency. BS 4800 is a standard range of colours for paints, created by the British Colour Council and is used mainly in construction and decorative purposes.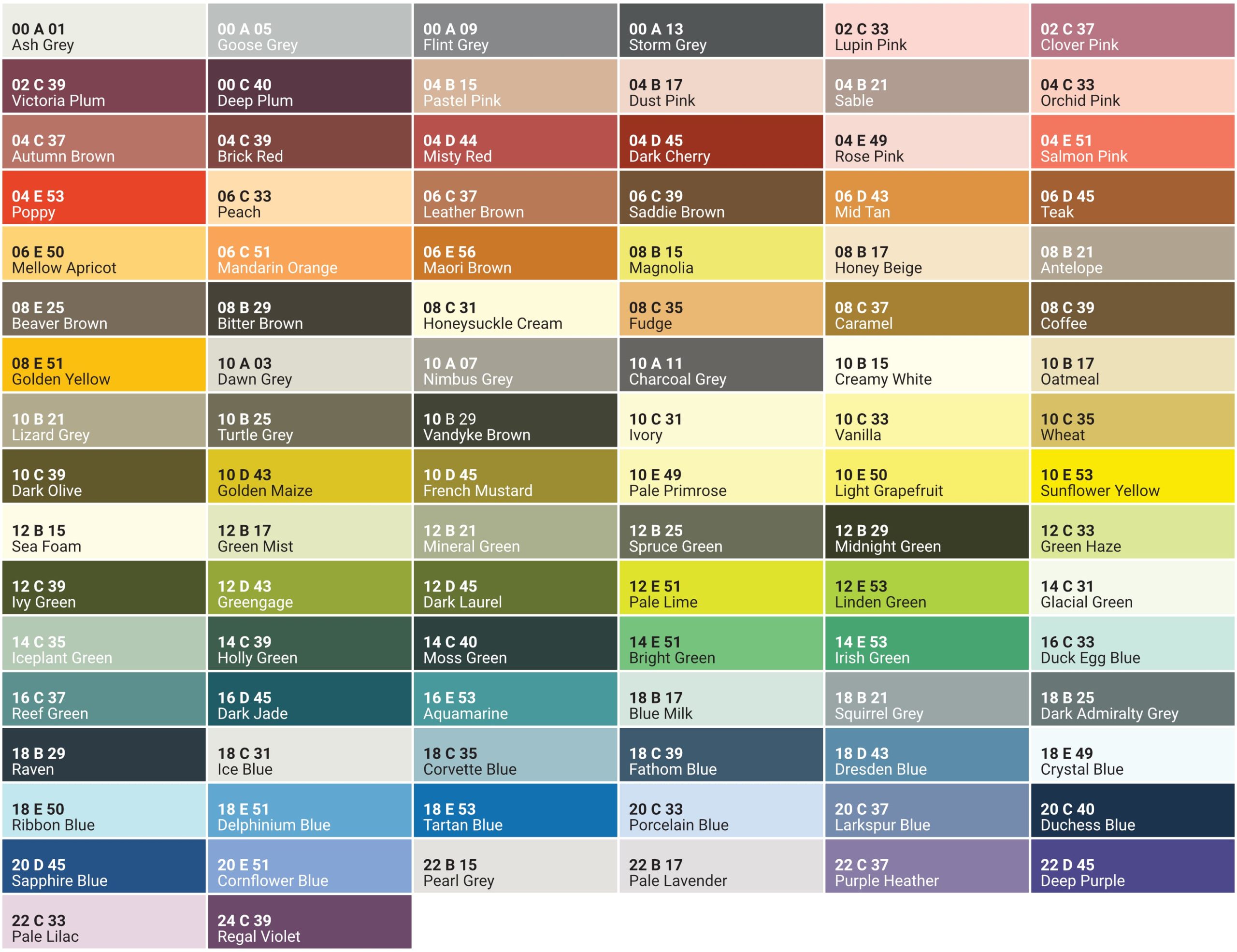 BS 381C Colour Chart
BS 381C is a different colour range created by the British Standards Institute that presents a list of ready mixed colours.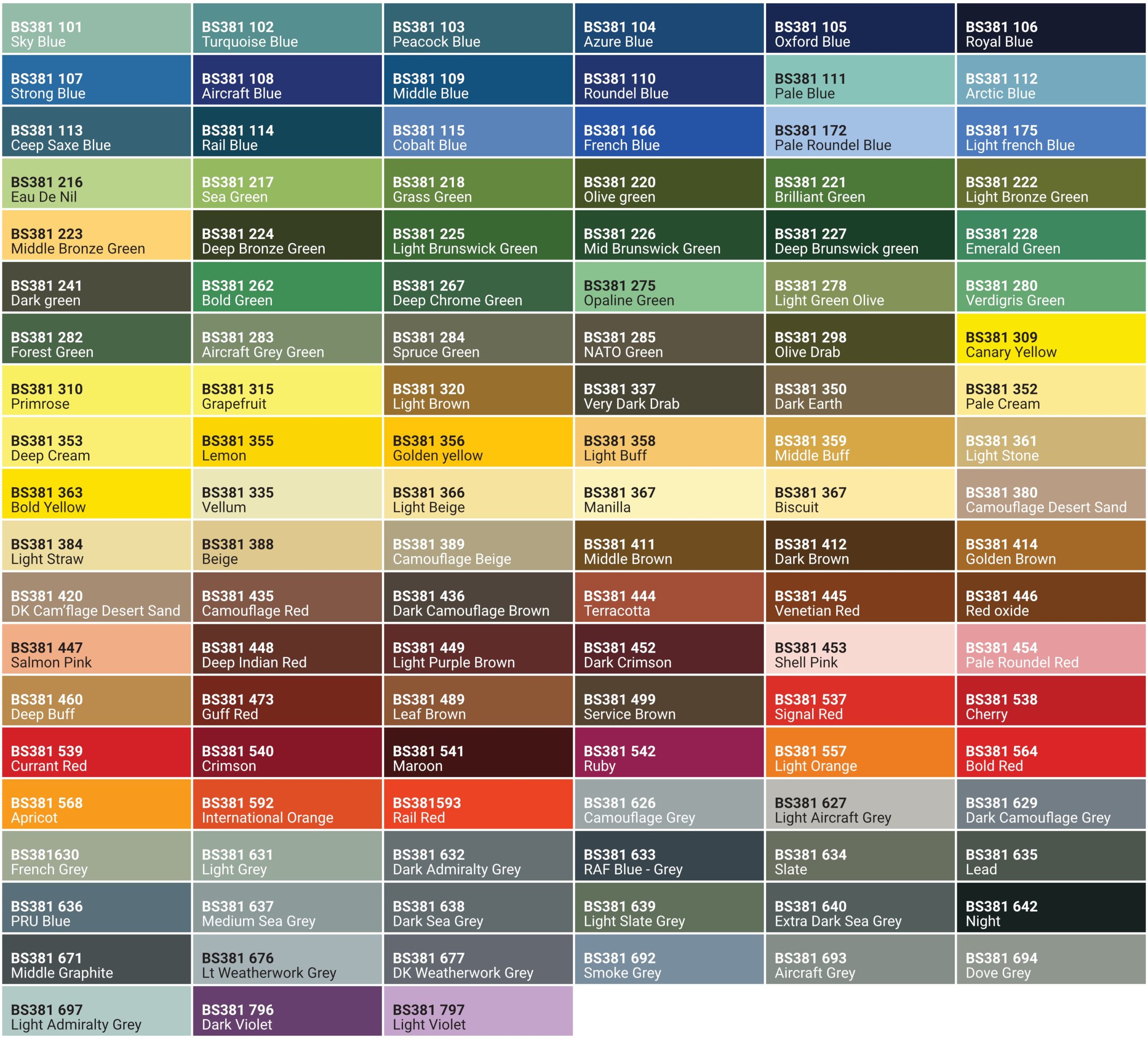 How to Select the Custom Colour Option at Latham's Steel Doors
Once you have selected a contemporary style front door of your choice, click on the 'Size, Colour & Panels' drop-down bar.
Select the 'Custom RAL/BS Colour' option from the drop-down list (or you may pick one of the colours we offer as standard).
Type in the indicated box the reference code that specifies the colour you would like. As an example, if you would like a Leaf Green front door colour you will need to type in RAL 6002. 
Please note that any colour request that is not already listed in our standard selection is +£80.00. The colour will also be applied to both sides of the door.

For all enquiries please call our team on +44 01384 889155 or email [email protected]
FAQs (Frequently Asked Questions)
The best colour is a dark or navy blue. The reason for this is, on the colour wheel, the most complementary colour of red brick's orange hue is dark blue. Red brick is one of the few types of building material that can offset a white front door for it to stand out. Steel grey and pastel green colours are also nice options for a red brick house.
Oxford blue, black and anthracite grey are all suitable colours for pale stone or rendered homes. The important thing to remember here is to ensure that you pick a door colour that stands out from the white. Some websites recommend a white door on a white background, but a total whitewash creates a bland canvas and washed-out style. Consider a grey colour if you're looking for something strikingly bold, or a peacock blue/juniper green for a fresh and appealing look.
A red front door is seen as a welcoming colour in western culture. Green front doors are considered more environmentally friendly.
Generally speaking, this depends on the type of property. Country Life Magazine reported that the most enticing colours were duck egg blue and navy or teal, including sage and olive green. We recommend staying away from bright colours, such as orange, lime green or purple, etc. A potential home buyer will likely make their decision within seconds of seeing the house. The colour of the front door has a huge impact on the sale of a home.
For a natural wood door, the front door should be the same colour inside and out.

For a painted timber door, or a composite door, your front door shouldn't be the same colour inside and out. There are some exceptions to this where a classic black or dark grey can suit most interiors and offer a striking contrast.
PLEASE NOTE: When purchasing Latham's selection of front doors, any chosen colour applies to both sides of the door.