Energy-efficient doors provide an effective means of heightening the thermal performance of your home. Homes lose roughly 10-20% of heat through external doors and windows (Centre for Sustainable Energy). In spite of whether or not your doors are old, if they let a draught through or aren't made from modern materials, they could be costing you money on your heating bills.
Energy-efficient doors are specifically designed with improved core materials to help reduce levels of unwanted heat transfers through your doors. In addition to this, they will also help you make significant savings on your energy bills.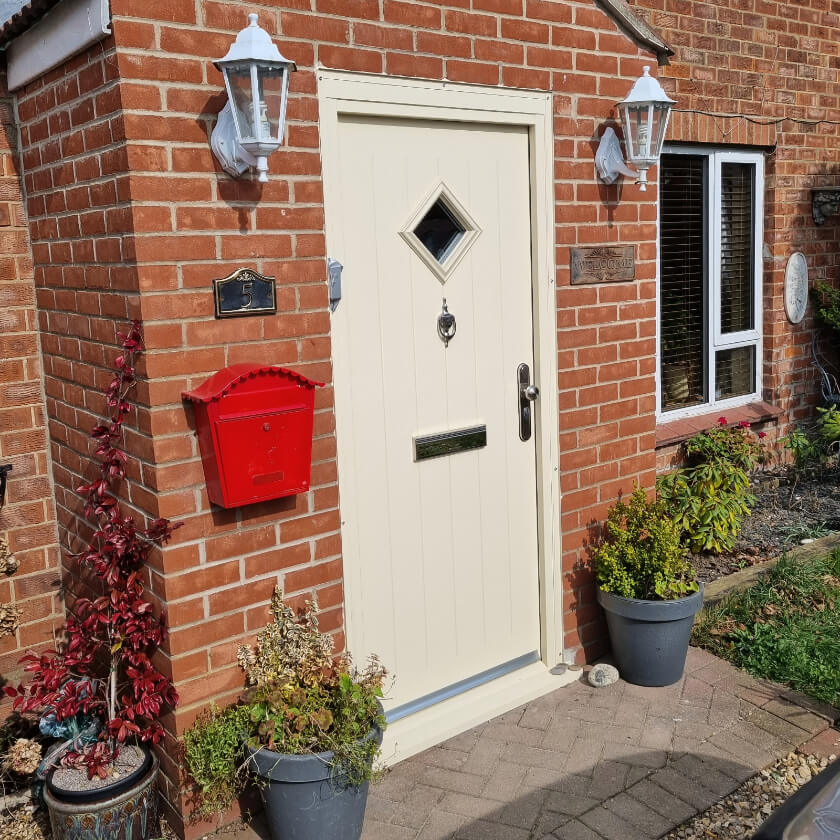 The latest developments in climate change and global warming only further emphasise the need to reduce our carbon footprint and become more "green". If you are planning on upgrading your doors, our comprehensive guide will cover how installing an energy-efficient door can have a major impact on your home – from thermal efficiency to improved security – and even saving the planet.
Benefits of Installing Energy-Efficient Doors
There are a whole host of benefits that come with installing an energy-efficient door, other than having a huge impact on the overall thermal efficiency of your home.
Significant Energy Savings
Because your door will be insulated and draught-proofed to help prevent heat escaping, you can reduce your use of central heating (which can be costly) and consume less energy when controlling the climate in your home. A properly installed and well-insulated door is a long term and sound investment that will help towards noticeable financial savings.
Maintain Comfort
Using up more energy becomes unavoidable as we spend more time inside during the winter months. Energy-efficient doors will help to keep warm air from escaping and prevent cold air and moisture from entering. As a result, you can maintain a warm and comfortable ambience within your home, whilst reducing the need for central heating.
Eco-Friendly
Some manufacturers aim to construct their door products with environmentally-friendly materials through sustainable manufacturing processes. This is to reduce CO2 emissions during production and any impact on the environment to a minimum. If you are wanting to go "green", you should seek out manufacturers who produce eco-friendly doors.
Stylish & Secure
Energy-efficient doors can also be highly secure. Key materials (or a combination of them) can be used to improve a door's core construction to achieve the levels of security and thermal insulation required. Doors made of strong, robust materials and frames can offer protection against brute force attacks. Some door products will offer the latest security hardware and multi-point locking mechanisms to combat "tampering" attacks. This combination offers homeowners peace of mind along with greater energy-efficiency.
In addition to this, most types of doors can be customised to your own specification and design. There are different materials, styles and sizes to pick from, so you can match them with the general aesthetic of your property.
Elevate Your Home's Value
Anyone interested in buying will also be interested in saving money on their bills, living comfortably, and helping the environment at the same time. Improving your home with energy efficient doors can help you attract a potential buyer and secure a higher asking price, if and when you decide to sell.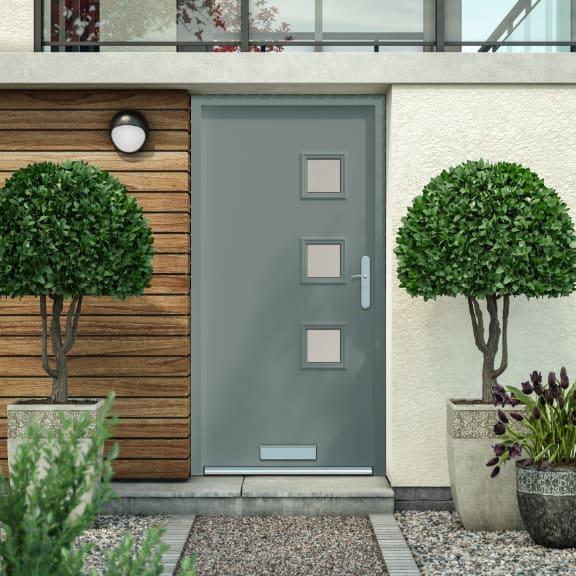 How to Choose an Energy-Efficient Door
Before choosing a type of energy-efficient door, there are a few considerations to take. The type of door is important, but the technical specifications are equally as important to be aware of.
Understanding U-Values
U-Values are an assessment which calculates the rate at which heat passes through a material, such as steel or uPVC. In other words, it determines how efficiently the door prevents heat from escaping. You can check the thermal performance of a product by looking at its U-Value. Put simply, the lower the U-Value number, the slower the heat can move through the material from the inside to the outside, making it a better thermal insulator. The unit of measurement is W/m2K.
Opt for low U-Values when choosing a door. Of course, not all door products are made equally and you won't get the same insulation performance across the board. For example, a solid wooden door could have a U-Value of 3.0W, whereas a uPVC door could have a U-Value of 1.8W – making the uPVC door the most energy-efficient option.
Understanding Energy Ratings
Energy ratings were introduced by the British Fenestration Rating Council (BFRC) to give a rating that's better understood and recognised by consumers. This rating is a method of assessing the total energy performance of a door, taking into account the U-Value, solar gain and air leakage of the product.
We have become used to seeing 'A-G' listings for electrical goods such as; fridges, washing machines, cookers, and a number of other household items. The same grading system now applies to doors. The energy efficiency of a door product is given as a traffic light rating between 'A-G'. 'A+' rating indicates an excellent level of energy efficiency ('A++' is the highest possible), whilst 'G' is the lowest.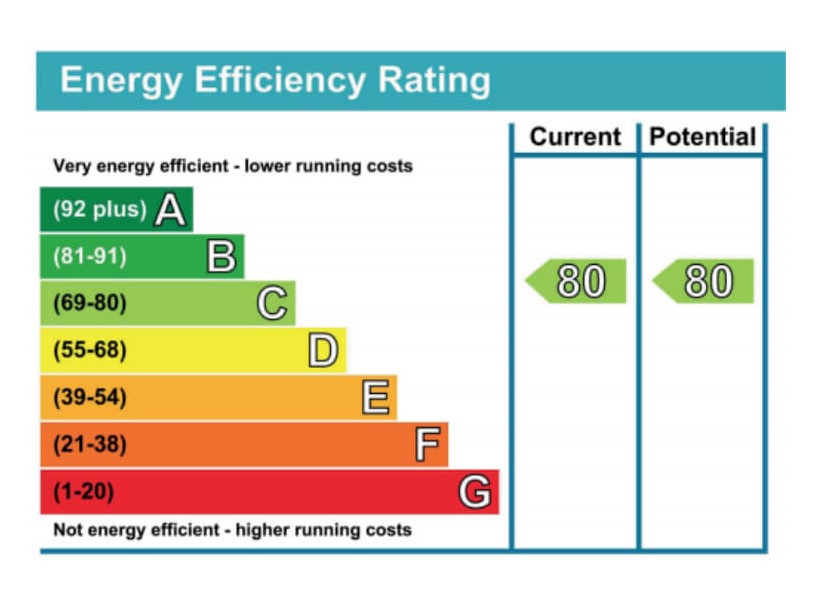 New-build homes tend to have high EPC ratings, while older homes often have lower ratings of around 'D' or 'E'. The average EPC rating for a home in the UK is 'D'.
Glazing
Energy-efficient glazing has three key contributing factors:
External doors can be solid, partially glazed or fully glazed. Fully or partially glazed doors will either be double or triple glazed with a thermal barrier between the panes of glass. These have air or an inert gas-like argon between them which prevents heat passing through.
When choosing a door with glazing options, always ensure it is double or triple glazed. This equals double the protection from adverse climatic conditions and locks in the warmth inside your home by reducing draughts and cold spots. Your manufacturer is the best point of contact if you need more information.
Minimum Energy Efficiency Standards
As energy prices continue to increase, the UK government has set out standards to which replacement doors (and windows) must conform to.
Building Regulations requires that;
| | | |
| --- | --- | --- |
| Fitting | Standard for Fittings in New Dwellings | Standard for Replacement Fittings in Existing Dwellings |
| Doors (more than 50% of their internal face glazed) – England & Wales | 1.8W/m2K | 1.8W/m2K (exempt if fitted into existing door frame) |
| Doors (more than 50% of their internal face glazed) – Scotland | 1.8W/m2K | 1.6W/m2K (exempt if fitted into existing door frame) |
What Type of Door is the Most Energy-Efficient?
Energy-efficient doors come in a variety of different materials – each with different insulation properties and pros and cons to compare. It should be mentioned that not all energy-efficient doors are not "100% green". The service life of any door depends on how it was made and its insulation type.
Insulated Steel Doors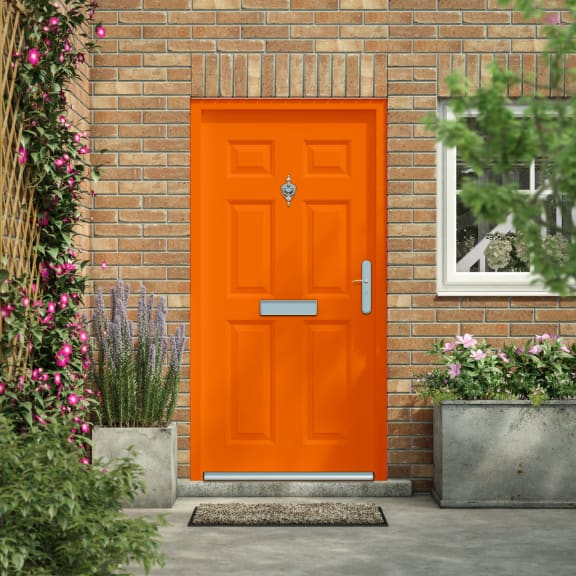 Pros
Cons
High Levels of Energy Efficiency– The highly conductive metal of an insulated steel door possesses impressive energy-efficient properties. Typically, insulated steel doors consist of a steel frame and are manufactured by filling a mineral wool, polyurethane or polystyrene foam core between two double skin steel leafs. This ensures the door is secure and won't warp over time, whilst the core adds another layer of protection and significantly increases the door's insulating factor, reducing heat transference and sound travel.
Prone to Slight Damages – The main disadvantage of steel doors is they are prone to scratches or dents. If the paint on the door gets chipped off at the dent and it is exposed to moisture in the air then rusting can develop. It is also impossible to repaint or stain them after exposure to overly humid conditions or heavy rain.
Strength & Durability – Insulated steel doors win by design in terms of their strength and durability. Steel doors are available in various thicknesses and weights, which can improve the security of the door as the hardware and frame is upgraded to suit the structural requirement. The thicker and heavier the steel is, the stronger hardware and frames the door will require, hence the stronger the door can withstand the elements and provide years of service.
The accompanying steel door frames prevent the likelihood of splintering or snapping the frame to gain access, as is so often the case with wooden or uPVC door frames. transference. Our insulated steel doors are suitable for commercial, industrial and residential uses where you would need increased thermal performance. Featuring our HOOPLY™ 19 point locking system, all of our thermal doors are supplied with an additional heavy duty screw-in door seal and expanding foam, which will further assist in reducing heat
Stronger Hinges are Needed – If you're opting for a heavy steel door you will need strong, supportive hinges and frames to support the weight (ideally made from non-corrosive stainless steel). However the frame and hinges are usually provided with the door as standard. This isn't so much a serious issue, but rather something to keep in mind. Ask your manufacturer for more information about installing insulated steel doors.
Weather Resistance – Galvanised steel (steel immersed in molten zinc) doors provide anti-rust properties and a weatherproof finish, offering one of the highest tolerances to overall weather conditions. Unlike wooden or uPVC doors, steel doors do not warp or react to moisture or extreme heat. They can also withstand snowy, rainy and windy weather.
Low Maintenance & Cost – An insulated steel door product (especially galvanised steel) offers minimal maintenance, an extended life, and incredible value for money. A decent powder coated finish will mean the door should never need to be repainted or repaired, unlike wooden doors which require repainting every few years.
Insulated uPVC Doors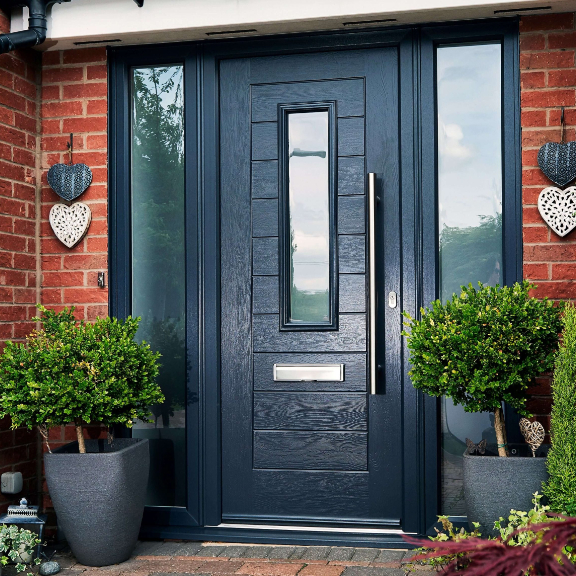 uPVC (Unplasticised Polyvinyl Chloride) doors are made from a form of hard and inflexible plastic. These doors can be fitted as interior or exterior doors, including both front and back entrances and conservatory rooms.
Pros
Cons
Energy Efficient – uPVC's rigid qualities make it the ideal material for high-quality doors.
If fitted correctly, uPVC doors are well-insulated and highly draught-proof. They have multi-chambered sections within the thick frame and come with multiple glazing options which helps in thermal insulation, keeping the cold air out and the inside warm.
Cheap uPVC – Cheap versions of uPVC doors can warp due to extreme hot or cold weather. Warping can compromise the structural integrity of the door and make it vulnerable to break-in attempts.
Eco-Friendly – Due to advances in recycling and design innovation, uPVC is one of the most sustainable construction materials available. The plastic is unplasticised, meaning no additives have been inserted during the manufacturing process.
Basic Style – uPVC doors tend to be white and basic, with no room to adapt the door's appearance to match old and new properties.
Minimal Maintenance & Cost – Generally, uPVC doors are very easy to maintain and are largely rust-proof and weatherproof. They don't require expensive varnishes or polishings. Its paint-free surface means it does not require repainting either.
No scratching, no fading, no rusting, and no rotting. All that is needed to keep them looking at their best is a quick wipe-down with a damp cloth, which means no splashing out on buying tools for cleaning and repair.
Wooden Doors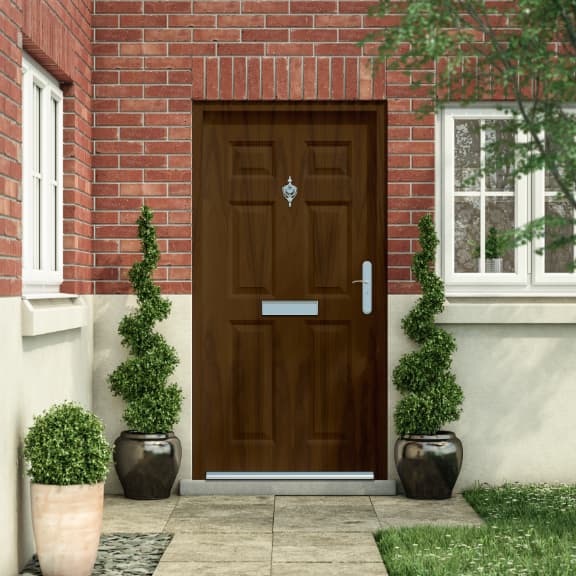 Can be made from a range of hardwood materials such as; oak, elm, beech, mahogany, sycamore, knotty alder, and so on.
Pros
Cons
Natural Insulating Properties-Wooden doors do have some insulating properties that are naturally inherent in wood. However, the thickness of the material will determine the U-Value (the rate in which heat is transferred through the door) and the door's energy-efficiency. Heat has an easier time passing through oak than it does through plastic. If you do opt for a wooden door, a thicker, solid-core material is recommended for better insulation.
A wooden door's thermal efficiency can be further improved with proper installation. Taking extra steps, like installing draught excluders, caulking and weather-stripping are all examples of making sure your wooden door can save energy and lower heating costs.
Other Insulated Types of Doors are Better – Even though wood has natural insulating properties, and you can include extra components to enhance the door's thermal efficiency capabilities, it does not compete with insulated steel or composite door types.
Eco-Friendly – Wood is a naturally recurring raw material which is obtained from sustainable sources. It requires much less manufacturing of synthetic materials than other types. It produces less CO2, which in turn reduces the effects towards global warming during production.
Regular Maintenance – Wooden doors require regular upkeep to combat the effects of warping and weathering. They can easily get tatty and scratched, and any finish can fade within a few years. Wooden doors can also absorb moisture, meaning that the door is more susceptible to rotting and can cause paint to peel or bubble. This includes around the frames that can come away from the joints without a correct seal.
Without regular refinishing and repainting, it can be difficult to ensure the door remains weatherproof and does not warp – the potential compromises in the integrity of the door can alter its intended function.
Style & Customisation – Wooden doors complement different home styles, which radiate cosy and traditional vibes. A wide variety of colours, styles and sizes are available. Owners can accentuate the grain to give it a beautiful finish. You can stain or paint the wood, and add glass if you like. It can also be trimmed to fit.
Expensive Hardwood – Solid wooden doors are significantly more costly than engineered softwood doors, depending on how "fancy" the door is and whether it is pre-hung (already mounted in the frame).
Insulated Composite Doors
Can be made from a range of hardwood Can be made from a variety of reinforced materials (uPVC, timber, aluminium, insulating foam, GRP, etc, or a combination of these).such as; oak, elm, beech, mahogany, sycamore, knotty alder, and so on. The thick, multi-layered design is tightly fused together for enhanced thermal insulation, optimum security and durability. A composite door is a good choice for anyone who wants a mixture of form and function.
| | |
| --- | --- |
| Pros | Cons |
| Enhanced Energy Efficiency – It will have either a core of CFC-free insulated polyurethane (PU) foam, or a laminated hardwood core, both of which will provide excellent thermal insulation. Generally, a modern composite door is 44mm thick (can go up to 48mm) which is at least 6mm thicker than other types of door (such as uPVC), which not only makes them thermally efficient but considerably soundproof as well. | Expensive – One of the main downfalls of the composite door is the price. Homeowners would be looking to spend up to £1000+. The justification behind this is the complex manufacturing process and high-quality performance the door delivers – in other words, you get what you pay for. |
| Weather Resistance – Brush seals are usually provided for superior weather resistance. You can also choose between single and double glazing depending on the manufacturer (although we would always recommend going for double or triple glazing). | Hot Weather – Composite doors can crack and creak during hot weather. This isn't a security concern, however. You may hear your door creak, but this only due to the plastics inside the door expanding and contracting due to the heat. This is more of a 'pet peeve' than a serious issue. |
| Incredible Strength & Durability – Strong and robust. Some doors may lose a sense of durability and sustainability in favour of style or design – the composite door does not. | |
| Low Maintenance & Longevity -A quality material composite door can last up to 20 years, and doesn't require re-paints or many repairs compared to other types of doors. | |
| MBS (Moisture Barrier System) – Some manufacturers will bond cellular PVC in the composite door to stop water ingress, which simply means the door won't take on any unwanted moisture or delamination. This helps to extend the door's life, as well as keeping the product looking at its best. | |
How to Know If You Need an Energy-Efficient Door
Old Age – If your door looks worn and torn, there is a chance it is allowing air to leak through the edges. This can lead to heat loss and increased energy bills from trying to keep your house warm.
Increased Energy Bills – The point of energy-efficient doors is to help prevent unwanted heat transfers and cut down on your energy bills. If you notice an increase in your bills, this could be a big indicator that maybe the insulation properties of your door aren't as effective as you think.
Incorrect Fitting & Sealing – Sealants around door frames can dry out, crack, shrink, or separate from the wall over time. This means the seal is failing and will allow air to leak through the edges of the door which, again, will cause your energy bills to climb. Check to see if the door is fitted correctly and has draught excluders (brush-like strips around the inner door frame).
Check the EPC – This is a colour coded & alphabetically ordered label (A-G) that will identify the energy-saving characteristics of the product. As a rule of thumb, 'A' is the best rating, 'G' the worst. It is advisable to install doors that have a rating of 'C' and above. There are manufacturers that offer 'A++' rated doors. If an EPC is unavailable, ask for the DoP (declaration of performance) which should include the U-value within this. It is a required standard to conform with CE and/or UKCA.
Choosing an Installer
The Glass and Glazing Federation is a membership organisation. Members sign up to a consumer code of practice. You can search for member installers for windows and doors on www.myglazing.com, as well as advice on buying glazing products.
Fenestration Self-Assessment Scheme (FENSA) is a government-backed Competent Person Scheme for the replacement of windows, doors and roof lights in England and Wales against relevant building regulations. Members registered with FENSA comply with thermal performance standards so that any glazing they install meets standards for energy efficiency. www.fensa.co.uk | 020 7645 3700
The British Fenestration Rating Council (BFRC) website has a 'find-a-product' search facility so you can find a door or window by energy rating for your postcode area, and find authorised installers and manufacturers. www.bfrc.org.uk | 020 7403 9200
The Double Glazing & Conservatory Ombudsman Scheme (DGCOS) offers a free service to investigate complaints about work carried out by its members. This includes free independent inspections, arbitration and a compensation fund. Accredited installers must offer deposit protection and a comprehensive guarantee to customers. www.dgcos.org.uk | 0845 053 8975
FAQs (Frequently Asked Questions)
If your doors are old and worn, If they are nor properly insulated, If they are not properly sealed or installed.
U-Values. The lower the number, the better thermal insulator the door is. Door Energy Ratings. Ratings range from 'A++' to 'G', the former meaning the most energy efficiency and the latter meaning the opposite. An energy rating of 'C' and above is recommended.
Steel doors are made of recyclable alloy and are a highly conductive metal, giving them impressive energy-efficient properties. All of our thermal steel doors are supplied with an additional heavy duty screw-in door seal and expanding foam, which will further assist in reducing heat transference.
Currently, we only offer doors as 'supply only'. We don't currently offer the service to survey or install our steel doors. However we do have a list of recommended surveyors and installers. Our doors have been manufactured to be simple to install. Consider a DIY install, or most competent local builders or carpenters should have no problem fitting our doors, especially with the help of our how-to install videos online and thorough installation instructions provided with all of our doors.