Building regulations surrounding fire escape routes and fire exits in the UK are complex, but necessary to ensure safety for both the building owner and occupant.
In a previous blog, we posted an overview of fire safety in the workplace. In this post we thought we'd delve a little deeper and simplify legislation surrounding fire escape routes and fire exit doors.
It's important for us to note, for the purpose of this post we're referring specifically to building regulations in England and Wales. Links to the relevant information for Scotland and Northern Ireland can be found at the bottom.
What do we mean by fire escape route?
A fire escape route is the shortest route(s) to comparative safety which Firesafe.org identify as having 4 stages:
Stage 1 – escape from the room or area of fire origin
Stage 2 – escape from the compartment of origin via the circulation route to a protected stairway or an adjoining compartment offering refuge
Stage 3 – escape from the floor of origin to the ground level
Stage 4 – escape at ground level away from the building
What is a fire exit door?
A fire exit is defined as:
"a designated way out of a building or passenger vehicle in the event of a fire occurring"
A fire exit door provides a method of securing your aperture in addition to maintaining a means of quickly escaping a building or room in an emergency situation. A fire exit door does not need to be fire rated and when used in buildings, should be fitted with furniture to aid escape such as a panic bar. You'll see from our range of fire exit doors and Exidor panic furniture, there's a variety of push bars and pads you can install, but we would always suggest you look for CE marked and fire rated products to ensure their quality and safety.
A fire exit is not to be confused with a fire door. Read this post for more details on the differences between a fire exit and fire door.
Where can I find legislation relating to fire escapes and emergency exit doors?
The legislation we are referring to in this post are Building Regulations 2010, Fire Safety, volume 2. These discuss means of escape from flats and other premises, not including private houses. Other properties include residential, office, shop and commercial, assembly and industrial buildings.
In conjunction with this we'll also take a look at the Regulatory Reform Fire Safety Order (2005)(RRFSO). The RRFSO sets out requirements for non-domestic premises for a minimum fire safety standard to be adhered to. In this instance the regulations also apply to virtually every type of building except private homes which includes individual flats in a block or house.
Fire escape routes and final exit doors guidance
Who is the responsible person?
As defined by the RRFSO a responsible person in relation to a workplace is either the employer, the person who has control of the premises or the owner.  The responsible person has a duty to ensure that legislative instructions are adhered to, monitored and maintained to safeguard those who are located in that property at any given time. Those organisations they're responsible for must comply with a strict set of regulations to ensure the safety of relevant persons:
(a) Emergency routes and exits must lead as directly as possible to a place of safety
(b) In the event of danger, it must be possible for persons to evacuate the premises as quickly and as safely as possible
(c) The number, distribution and dimensions of emergency routes and exits must be adequate having regard to the use, equipment and dimensions of the premises and the maximum number of persons who may be present there at any one time
(d) Emergency doors must open in the direction of escape
(e) Sliding or revolving doors must not be used for exits specifically intended as emergency exits
(f) Emergency doors must not be so locked or fastened that they cannot be easily and immediately opened by any person who may require to use them in an emergency
(g) Emergency routes and exits must be indicated by signs and,
(h) Emergency routes and exits requiring illumination must be provided with emergency lighting of adequate intensity in case of the failure of their normal lighting
How many fire exits do I need?
There is no specific definition of exactly how many final exit doors you must have in your premises, however we can turn to building regulations for guidance on the minimum requirements. It states there are 3 factors which will influence the number of fire exit doors, 'the number of occupants in the room, tier or storey in question and the limits on travel distance to the nearest exit'.
1 – Number of occupants
The following are defined as the minimum number of escape routes and exits from a room:
| | |
| --- | --- |
| Maximum number of people | Minimum number of escape routes / exits |
| 60 | 1 |
| 600 | 2 |
| More than 600 | 3 |
It's not always possible to know the number of people in the room, so in this instance capacity of the room should be calculated on the basis of the floor space factor as found in Appendix C of the building regulations document.
Here is a simplified example:
In an office, floor space factor is 6m2 per person and let's say your office is a total of 360m2
360m2 / 6 = 60 therefore your office has a capacity of 60 people so you would need a minimum of 1 escape route / exit
2 – Fire escape requirements for types of building
In single storey buildings the above figures will apply in relation to the number of escape routes and final exit doors required. In multi storey buildings however, the stipulation differs as more than one staircase may be needed for escape. In this case, every part of each storey will need to have access to more than one set of stairs.
The full building regulations document will detail specific requirements in the design for vertical escape (found in section 4 page 43), but for the purpose of this post here's a simplified overview:
The number of escape stairs required is determined by a number of stipulations such as:
The room occupancy (as discussed above)
Whether a single stair is acceptable
Whether independent stairs are required in mixed occupancy buildings
The provision of adequate width for escape
In larger buildings, access to be used as firefighting stairs may also be needed and should be taken into consideration.
3 – Travel distance for escape
The third factor influencing the number of emergency escape routes and exits required is the travel distance to reach that exit. Building regulations set out the 'limitations on travel distance' as follows: (click to open). As you can see from the table, the distance will depend upon the use of the premises and whether the escape route has one or more direction of travel.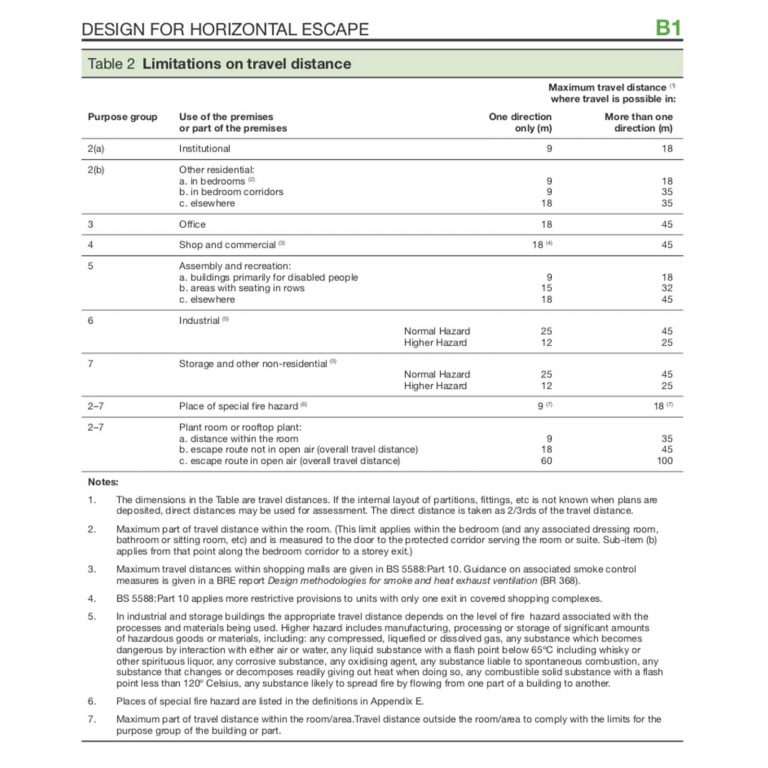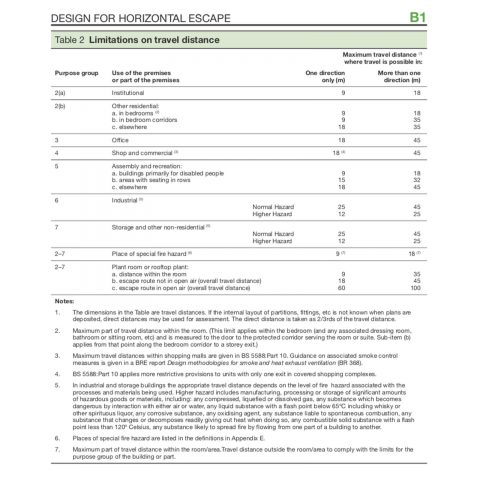 A simplified explanation provided by gov.uk states that to comply with the RRFSO the distance should be as short as possible. If there is only 1 escape route, the travel distance should not be more than 18 metres. This distance should be reduced to 12 metres or less if there is a high chance of a fire starting or spreading quickly. The distance can be longer in some circumstances, up to approximately 25 metres where the chances of a fire starting and spreading quickly are very low.
If there is more than one escape route, travel distances should be no more than 45 metres, reduced to 25metres in areas of higher risk, and increased to 60 metres in areas of very low risk. Obviously, all fire escape routes should be kept clear of obstructions and flammable materials at all times.

What signage do I need on my fire escape route?
As mentioned previously, according to the RRFSO, 'emergency routes and exits must be indicated by signs' and 'emergency routes and exits requiring illumination must be provided with emergency lighting of adequate intensity in the case of failure of normal lighting'.
Section 3 of The Health and Safety (Safety Signs and Signals) Regulations 1996 sets out guidance on fire safety signs which building regulations stipulate should be complied with.
Fire safety signs with the purpose of directing emergency escape should be rectangular or square in shape and include a white pictogram on a green background. The green part should take up at least 50% of the area of the sign. As with the fire exit door itself, all signage should also be properly maintained. Ensure they are fixed securely and large enough that they can be clearly seen.
How should the fire exit operate?
'The door of any doorway or exit should, if reasonably practicable, be hung to open in the direction of escape' and this is a requirement should the number of persons using the door expect to exceed 60 at the time of a fire. The RRFSO further enforces this by stating 'emergency doors must open in the direction of escape'. Incorrect operation of the door would inhibit quick exit from an emergency situation which could lead to irreparable consequences.
Installation of fire exits and escape routes is merely the beginning of responsibility for fire safety as regular maintenance must be carried out in order to ensure their continued safe operation.  Under the RRFSO all equipment and devices should be "maintained in an efficient state, in efficient working order and in good repair". With a fire exit door in mind, it will be the duty of the responsible person to ensure this is carried out and with the support of the premises owner/occupier any issues are corrected in a timely manner. Regular inspection of the equipment and devices such as the escape door should form an important element of the fire risk assessment which in turn should be reviewed annually to ensure compliance.
How can you keep a fire exit secure?
'Doors on escape routes (whether or not the doors are fire doors) should either not be fitted with a lock, latch or bolt fastenings, or they should only be fitted with simple fastenings that can be readily operated from the side approached by people making an escape' (taken from building regulations). Fitting a fire exit door with a lock hinders the use and therefore creates a barrier to safe escape in an emergency situation.
Fire exit doors that lock
In some instances however, emergency escape doors do need the ability to lock so guidance does reflect this. An example could be hotel bedroom doors, these doors must have the ability to lock for the privacy and security of the guest and are operated externally using a key, but can be readily opened from the inside for easy evacuation in an emergency. Building regulations state 'where a door on an escape route has to be secured against entry when the building or part of the building is occupied, it should be fitted with a lock or fastening which is readily operated, without a key, from the side approached by people making their escape'. Similarly if the door is operated by a code, card or biometric data for example, it should be possible to override the lock by the side of the door used by those making their escape. This stipulation is further reflected in the RRFSO by stating 'emergency doors must not be locked or fastened that they cannot be easily opened by any person who may require to use them in an emergency'.
British Standards for locks and fastenings

Building regulations further expand the requirement for assembly, shop and commercial premises with an occupancy rate of more than 60 people by stating that these rooms 'should either not be fitted with lock, latch or bolts fastenings, or be fitted with panic fastenings in accordance with BS EN 1125:1997. For those who may be unfamiliar, BS EN 1125 are British Standards relating to building hardware, specifically Panic Exit devices which are operated by a horizontal bar which is used on escape routes. Achieving a BS rating demonstrates that this item of hardware has undertaken rigorous testing to ensure the quality and integrity of the product.
External access to open your fire exit door
Similarly, it's also possible to fit an Outside Access Device (OAD) to an external fire escape door. Fitting an OAD enables the door to be made accessible externally without fitting a lock internally which would inhibit the use of the door in an emergency situation.
Finally, in non-residential buildings some fire exit doors may be fitted with a lock which is only used when the building is empty, however in these cases the onus is placed on the management procedures to ensure the safe use of locks in this situation.
Why do these regulations exist?
This is pretty straightforward to answer; regulations exist to safeguard those who could be impacted by fire, and to ensure they can safely escape from fire in an emergency situation.
Unfortunately, not all organisations comply and a quick search of the internet can show several instances of companies who have been fined in recent years. In 2009 New Look was fined a record £400,000 after a fire broke out in their Oxford Street store in 2007, and having been seen to be in breach of fire safety law. Thankfully no one was injured however the judge suggested that 'the charges represent "significant failures" which constituted a risk of death and serious injury".  Also in 2007, the Co-op Group were fined £210,000 after they were found to be in breach of 6 pieces of fire safety legislation including failure to keep the rear emergency exit doors unlocked and fitting a lock on exit doors that required input of a security code, making it more difficult to open the door in an emergency. Chescombe Limited who own Tantons Hotel in Bideford were fined £40,000 plus £10,000 in costs for breaching fire safety regulations. The responsible person pleaded guilty to a number of offences including failure to ensure escape routes were clear, and failure to ensure all final exit doors were easy to open in an emergency situation.
A breach of fire safety legislation has far reaching implications. As we've already seen there is the financial impact of substantial fines, but there's also a loss of business confidence and further civil and criminal actions. There's also the moral implications of injury or even death through failure to safeguard employees or tenants under your responsibility. In the unfortunate instance that a fire occurs on your premises, you must show that as far as reasonably practicable you put measures in place to negate the impact of such an incident. Ignorance is no defence and no company is exempt from prosecution.
Satisfying Building Regulations, the Regulatory Reform Fire Safety Order (2005) and The Health and Safety Executive is a complex but necessary task. Regulations are set out for a reason, to not only protect those occupying a building, but also building owners. Our range of steel fire exit doors are all fully compliant with building regulations and we supply only Exidor panic furniture which is known for its strength and durability. If you find you are unsure of anything in relation to fire exit doors and escape routes, you should always consult the relevant authority. There are a wealth of resources available such as your local council office, the health and safety executive or the fire service to support you should you need any further information.
Click here if you would like information regarding fire safety regulations for: