What size euro cylinder is installed in your steel doors?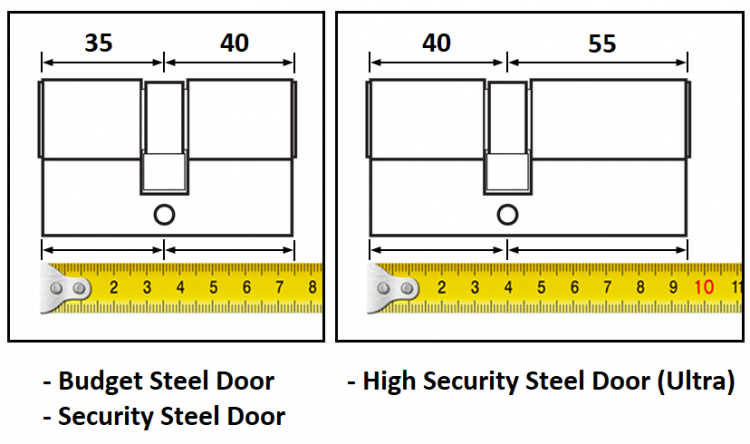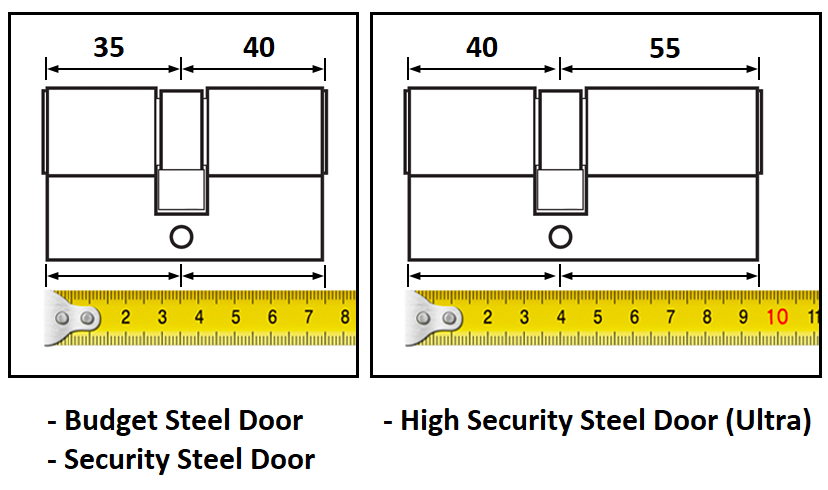 Our steel door range consists of 3 types, of which have different door leaf thicknesses:
Budget – 45mm thick door leaf
Security – 50mm thick door leaf
High Security (Ultra) – 70mm thick door leaf
The thickness of the door leaf and the position of the sash lock within the door leaf dictates what size cylinder is required. Because the majority of Hooply handles have a euro cylinder protection cover integrated, the length of the cylinder can't be too long, as it will stop this oval cover from sitting flush against the door, and nicely inside of the handle.
We send out a 35/40 euro cylinder (also known as a 30/10/35) with budget and security doors.
We send out a 40/55 euro cylinder (also known as a 35/10/50) with our high security ultra door.
The type of key used with your euro cylinder can impact whether it will work or not in conjunction with the oval cylinder covers which come with the Hooply handles. For example, a dimple style key has a longer shoulder / shaft, allowing you to use a slightly smaller cylinder if required.
For peace of mind, you can purchase replacement euro cylinders through our website to ensure the dimensions are correct, with security upgraded versions also available. Extra keys and a key alike service are also available with our euro cylinders: Please see here
Our friendly sales and customer service team are always happy to help. Simply call 01384 220 050 or email your enquiry to: [email protected]
For other euro cylinder enquiries, please see our sister company's online website: Latham's Hardware. They specialise in euro cylinders and have a huge range of sizes available, not just compatible with our steel doors.