What height do you install the door viewer?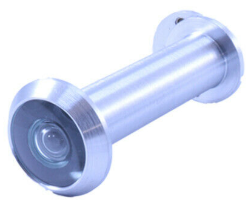 Door Viewer Position
Traditionally, door viewers are installed approximately 1500mm from the bottom of the door. We install the door viewers at this height and in the centre by default, but can install them offset to one side if you require.
If you need the door viewer installed at a different height, just ask. We will accommodate this for you.
DDA Compliance (Disabled Discrimination Act)
It may be required for a door viewer to be installed lower to comply with DDA regulations. This is typically 1000mm – 1200mm from the bottom of the door. In some instances, 2 door viewers are required to satisfy both DDA compliant positions and the traditional 1500mm height position.
Door Viewer Angles
We offer 2 viewing angles: 180 and 160 degree. By default, we install the larger viewing angle door viewer of 180 degrees. The 160 degree door viewer is only used when combined with a door knocker since the viewing scope is thinner and designed to be inserted into the knocker.
Quality
Our door viewers are finished to the highest standard, available in satin / brushed and polished chrome. They are made from brass, coated in the required finish with a glass lens. There are no steel or plastic components, so they stand the test of time.
Security Features
No door should be opened without first checking who is on the other side. This is the main selling point of a door viewer; it is a great cost effective alternative to installing a large glass window which can allow others to see in.
Our door viewers have a cover on the inside just to guarantee zero visibility from the outside looking in.
Door viewer, peep hole, spy hole….?
There is no definitively correct term to call or describe a door viewer, but we find the most popular terms being:
Door viewer
Peep hole
Spy hole
Door hole
Peek hole
They are all the same thing, just called different things in different cultures, age groups and countries.
How easy are they to fit? Is it a DIY task?
Super easy. The door viewer is made of 2 telescopic pieces which screw into each other, a male piece with an external thread and a female piece with an internal thread. You simply drill a hole through your door and screw the 2 pieces into each other. The only time consuming part is measuring up to make sure it's central and at the correct height!
If you're ordering a door from us with a longer lead time due to the door viewer installation process, we highly recommend tackling this yourself as it's one of the easiest installs you can do.
Find our how-to video here: