Are your doors weatherproof?
The short answer is YES
We believe our steel doors have been engineered to be some of the best weather-poof doors in the market. By weather-proof, we mean draught proof and water tight. And by best in the market, we mean good enough to be installed on the front your house, not just the entrance to a warehouse.
Since our doors are insulated*, we have done everything possible to create the optimal seal between the door and frame to take full advantage of the thermal and acoustic capabilities.
Seals
We provide a nylon V-seal which is self adhesive and easily affixed to the frame on installation. The 'V' represents the shape of the seal, which closes back on itself when the door closes into the frame. We feel that this is better than any alternative rubber 'D' or 'P' seal. A length of this is also recommended to be affixed to the bottom of the door leaf, creating a tight seal between the bottom of the door and threshold.
We also provide a self adhesive flat rubber seal which is affixed to the integral jemmy bar lip of the door leaf. This creates a second seal, but also aids softening the closing action when slamming the door shut.
Therefore, there are 2 seals between the door and frame. See the seal detail illustrations below: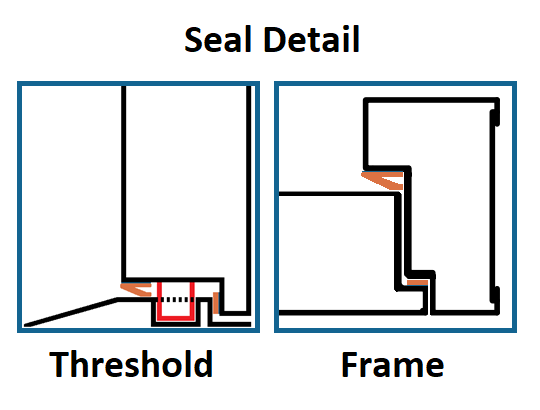 Integral Design
As you can see from the illustrations above, our door and frame profile have been designed with both security and weather proofing in mind. Not only is there a jam created in the reveal of the frame (where the door naturally closes into), but an additional point of contact around the edge of the door, where the integral anti jemmy bar lip closes into the reveal folded into the frame, too. As mentioned above, this gave us room to introduce an additional seal between the door and frame.
Rain Deflector
Rain deflectors are required for inward opening doors, installed externally. They help direct the water that runs down the door, over the threshold. The threshold is a ramped design so helps any water naturally run away from the door anyway. Driving rain that is blown underneath the rain deflector will hit the seal that is stuck to the bottom of the door leaf (shown in the illustration above).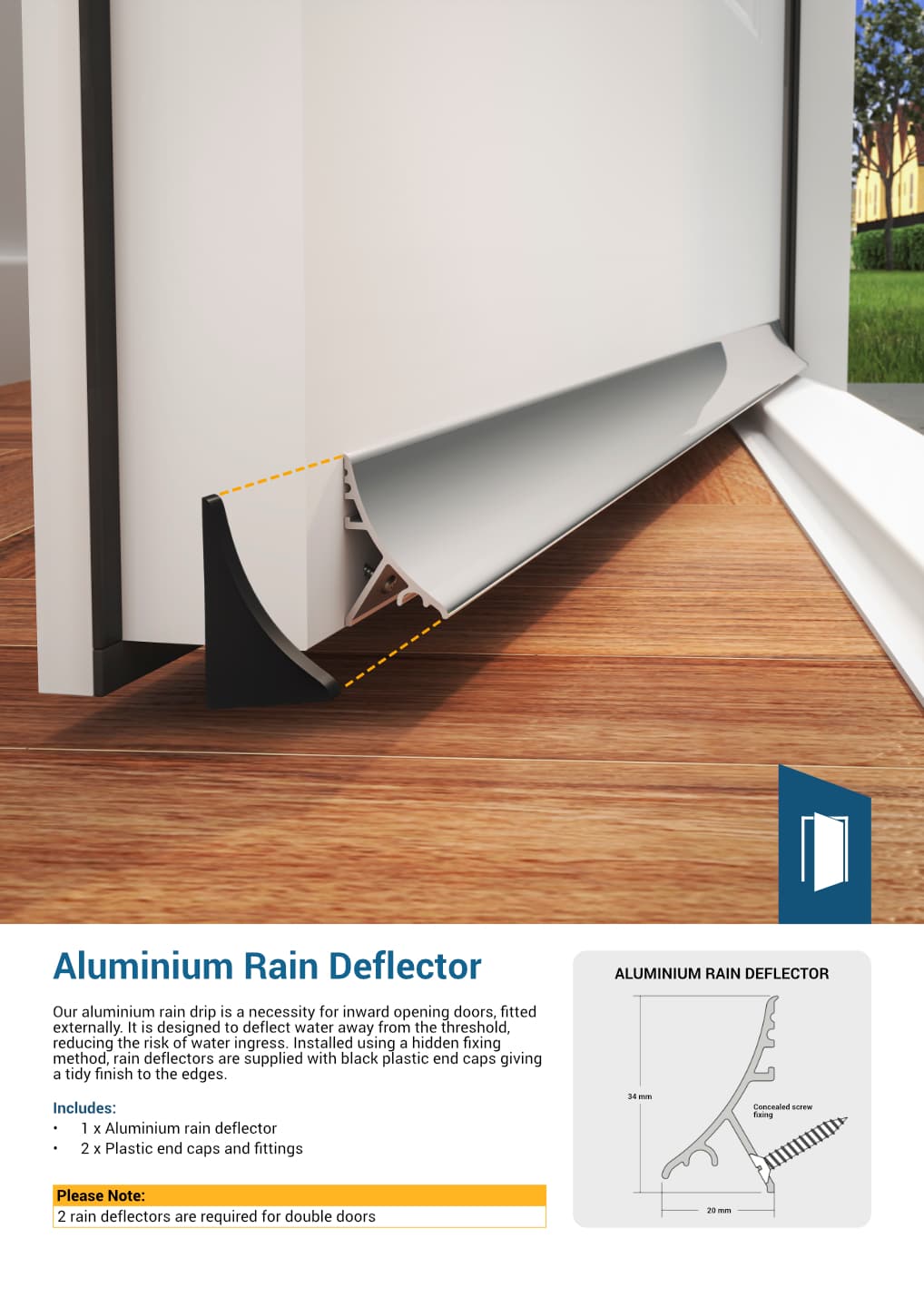 Additional measures
To avoid water ingress underneath the door threshold, our fixing kits now include clear silicone to create a seal here too.
Expanding foam and perimeter seal is also highly recommended to both bond and seal the external side of the frame to your structural opening.
For any further questions regarding the weather proofing of our security doors, our friendly sales and customer service team are always happy to help. Simply call 01384 220 050 or email your enquiry to: [email protected]
*security and high security doors are insulated. Budget steel doors are not insulated.