Decorations are going up, Jack Frost is nipping at your nose and the dulcet tones of Noddy Holder can be heard all over the radio…yes folks, it's Christmas!
But sadly, with the festivities comes increased risk. Dark nights have arrived and burglars thrive under the cover of darkness. Homes lie empty while people take advantage of some time off, or when others are hard at work. To help keep your property secure during the festive period, we thought we'd share our top tips to give you some simple ideas for home security:
1 – Make a List. Check it Twice
Remember the excitement of looking through the catalogue and making your list for Santa? Well now it's time to make a list of all the expensive and high value items in your home. Take photos to accompany the list, should the worst happen and your home is broken into, a list and photos will be an excellent help in speeding up insurance claims and police investigations – put that new smart phone to good use!
2 – #TMI
It's fun to share with family and friends what a great time we're having over Christmas but don't share to much information, be careful what you post on social media. Make sure your account is secure and your privacy settings are up to date. Better still, try not to post any images of the high value items you've received. Cyber attackers are very clever and once those images are on the internet, it is incredibly hard to get them permanently removed.
3 – Holidays are coming, Holidays are coming
Not everyone spends Christmas at home, and many people choose to go abroad or take a twixmas break. There are simple steps you can take to help protect your home if that's you:
Keep the curtains closed – dark nights are long in winter, open curtains at night are an obvious sign that you aren't home.
Wait until you get home to post your holiday snaps online – posting on social media is a great way to share holiday snaps with your friends and family. Tagging yourself in Tenerife on Facebook however shows you aren't at home and if your privacy settings are inadvertently not set up correctly, you could be telling the world your home is empty.
Phone a Friend – Ask a trusted neighbour, friend or family member to check on your home whilst you are away. Showing someone is keeping a watchful eye over your property can act as a deterrent to possible criminals. Leave them with a key and ask them to move any post that may be in view.
Don't Rush – Heading off to the airport? Leave yourself a little extra time so you can check the doors and windows to your home properly before you leave.
4 – Rubbish Removal
New toys and tech mean boxes which are usually branded and may make it obvious what's new in your home this year. Bin lorries don't always operate frequently during the Christmas period, make sure you know when the lorries will be at your house and put the rubbish out either the night before or that morning. Alternatively, check out when your local waste recycling centre will be open and drop off any excess rubbish. In the meantime, keep it out of view, don't let piles of rubbish be built up outside your home.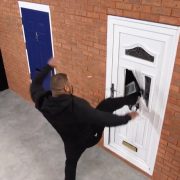 5 – A New Door to Hang your wreath on this year
Another way to help secure your home and possessions is to install a steel door, whether a High Security Front Door or Garage Side Door for example, the additional protection a steel door can offer over a uPVC door is clear. Don't just take our word for it though, check out our attack video to see for yourself. In most cases of domestic burglary, the point of entry is through a door and via a forced lock. We stock a wide range of steel doors all at the UK's most competitive prices so if you'd like any more information just contact our friendly team for advice.
There's lots of advice out there on how to keep your home and possessions safe. If you're unsure or want further advice try websites such as the Police and Crimestoppers.
Taking simple steps can protect you and your possessions this Christmas so don't let thieves ruin what is otherwise, the most wonderful time of year.